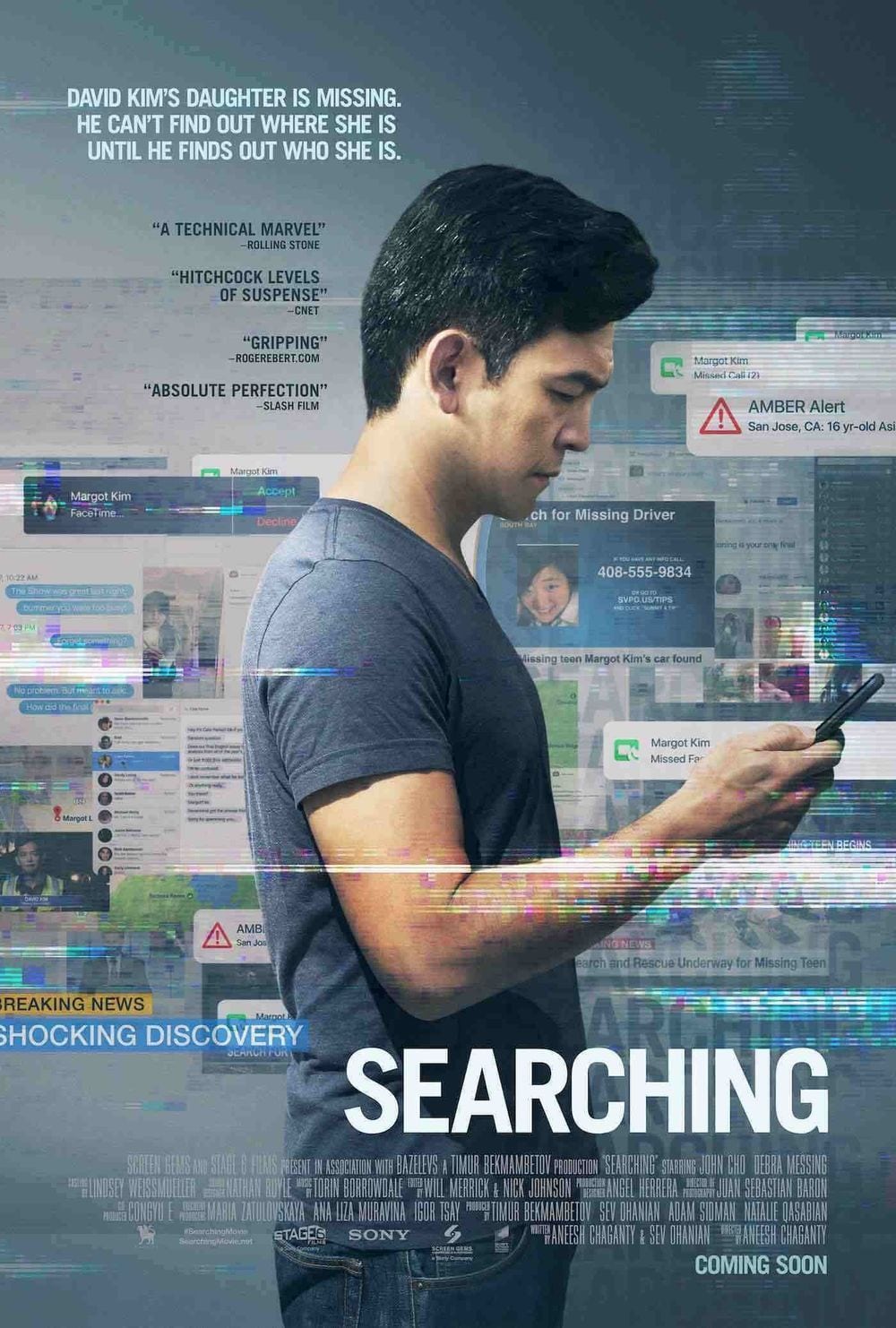 While countless special effects-inclined Hollywood outputs today are reliant on visuals enhanced by computer generated imagery, "Searching," the new psychological thriller from first-time writer/director Aneesh Chaganty, is likewise dependent on the computer, but in an entirely unprecedented way: every single shot is depicted within the confines of FaceTime, Skype, iPhone chat, or some mobile device. And the results, from both a visual and storytelling standpoint, are nothing short of groundbreaking.
In one of the most well-choreographed opening montages in recent memory, we fade in on the green meadows beneath a pastel blue, puffy white cloud-laden sky that is unmistakably the desktop of an early 2000's Microsoft Windows laptop. We then browse through a number of items stored therein: photos of David Kim (John Cho) and his wife Pam (Sara Sohn) posing with their adorable daughter Margot on her first day of elementary school; an email from the family physician relaying the tragic news that Pam has cancer; a mouse removing the phrase "Mom comes home!" from the calendar settings, and finally, an older David posing with Margot (portrayed in her teenage years by Michelle La) on her first day of high school.
Our hearts were broken, and hardly a word was uttered. This extraordinary display of creativity and concision remains intact throughout as we're given a prolonged glimpse into the current everyday life of David, whose undying love for Margot is affected by a palpable disconnect, presumably stemming from pain caused by Pam's absence.
David becomes acutely aware of this disconnect when Margot goes missing for more than 24 hours, prompting David to call the police and search Margot's laptop for clues, at which point he discovers that Margot is entangled in a whole world of trouble he never could have fathomed. With the help of his pot-smoking but genuine younger brother Peter (Joseph Lee) and local detective Rosemary Vick (a disarmingly stoic Debra Messing), David proceeds to pursue each and every lead Margot's laptop provides, hoping against hope to find her.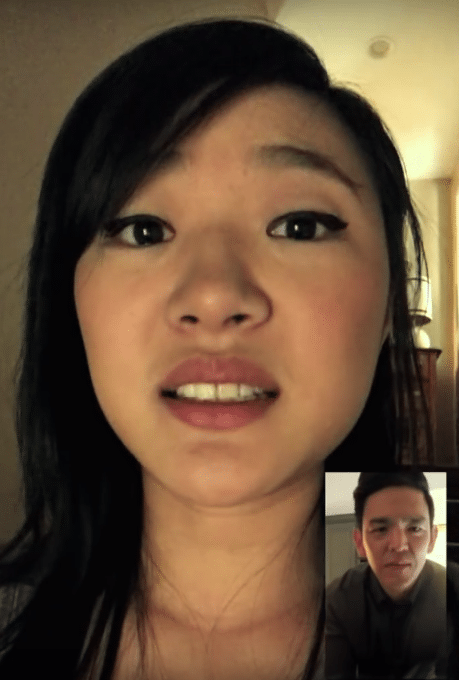 Chaganty, in his debut effort, displays both talent and restraint far beyond his experience level. In the same way that far too few horror filmmakers understand that we're most scared of what we don't see, Chaganty establishes himself as one of the few directors who understands that sometimes visuals are their most impactful when they hold back. Whereas so many thrillers today feature a constant cutting back and forth as if set on a five second timer, "Searching" contains a number of scenes presented through one camera angle that are as powerful as anything you'll see on film.
And Chaganty's script, which he co-penned with Sev Ohanian, boasts storytelling elements that not only keep you guessing at every turn (there are at least two major plot twists that are totally earned), but also introduce compelling ideas about social media and technology. Many have underestimated "Searching" to be solely a cautionary expose on the dangers of social media; and yes, the film does explore how catfishing can harm impressionable youths, and how the people we sometimes present ourselves to be on social media might as well be fake identities. But "Searching" gives equal weight to social media's tremendous positives, as many of the breaks in the case result from David utilizing the internet as the incredibly powerful tool it can and should be.
In addition to its gratifying storytelling, "Searching" also exhibits terrific performances. Who would have thought that Cho, who first came to our attention in the early 2000's as the teen exuberantly chanting his newly coined phrase "MILF!" at a high school party in "American Pie" and proceeded to become a household name as the star of the hit stoner comedy "Harold and Kumar Go to White Castle" could deliver such a powerful, layered performance as a grieving father bemoaning his daughter's imminent death and fighting the urge to blame himself. And Messing, known more for comic roles, delivers what is perhaps her most nuanced work yet.
"Searching" is indeed a refreshing, well-timed change of pace that, contrary to the influx of streaming services bringing movies to our laptops, has so effectively brought the laptop to the movies!