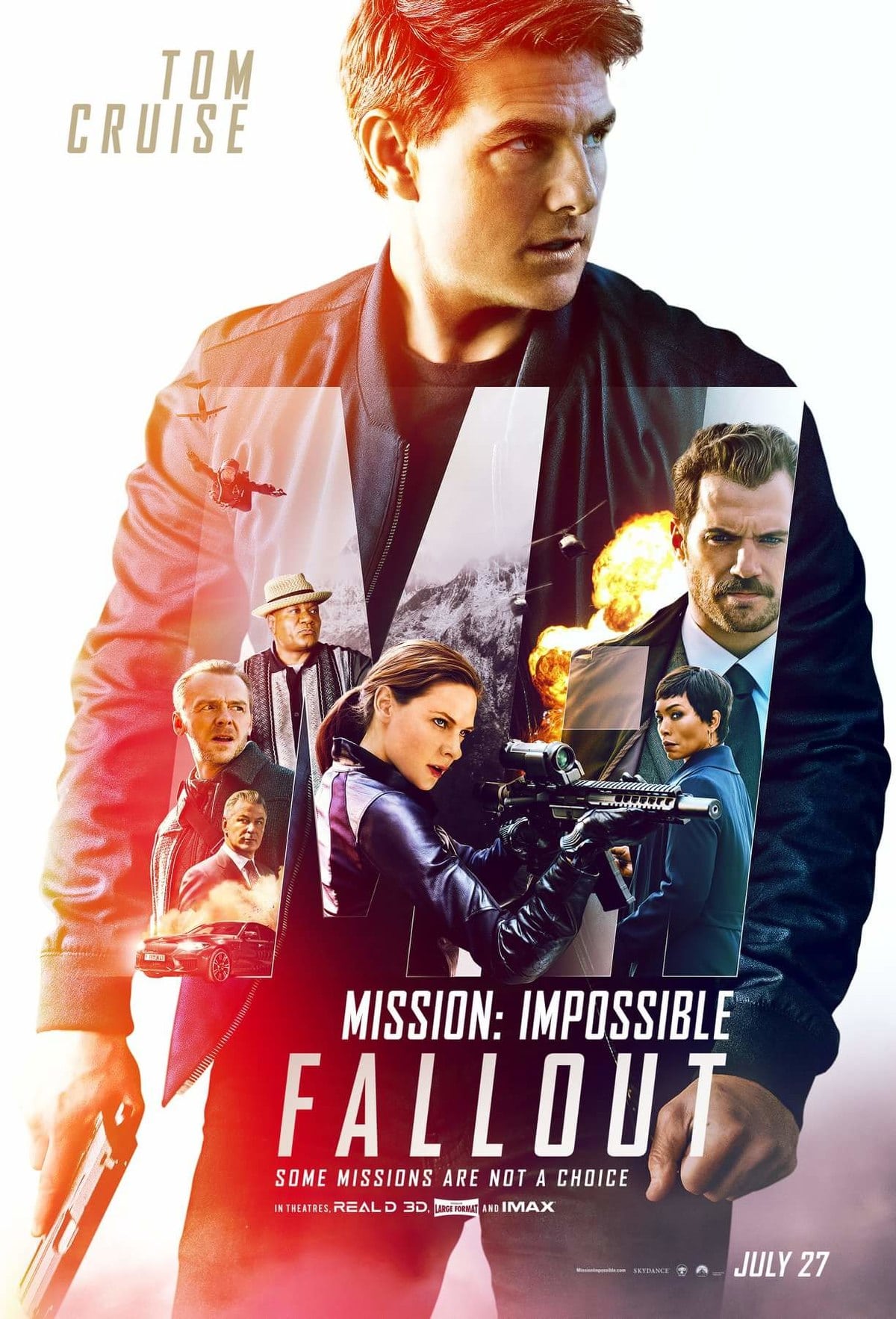 It's not often that a movie theater audience bursts into applause after a film's opening sequence. And it's even more rare for a film franchise boasting a slew of sequels to deliver a new iteration that doesn't just match but far surpasses the original. But thanks to taut, exhilarating action that rarely lets you up for air, yet another superstar turn from Tom Cruise as iconic super agent Ethan Hunt, and an opener too good to spoil, "Mission Impossible: Fallout" pulls off both feats.
In this, the sixth go-around for the Impossible Missions Force secret agency, Hunt and his longtime associates Benji (Simon Pegg) and Luther (Ving Rhames) are allotted 72 hours to intercept three cases of plutonium before they are sold to "The Apostles," an international terrorist group organized by Solomon Lane (Sean Harris), a former M16 (British secret service) agent who betrayed the IMF in the preceding "Mission Impossible" installment "Rogue Nation."
After a botched initial attempt by the IMF to obtain the plutonium, CIA Director Erica Sloane (Angela Bassett) assigns Special Op assassin August Walker (Henry Cavill) to monitor the remainder of the mission, which evolves into an epic cat-and-mouse chase that spans multiple nations and leads to Hunt & Co. collaborating with a classic femme fatale arms dealer known as The White Widow (Vanessa Kirby) in order to track down Lane.
This pursuit of Lane not only endangers Hunt directly, but also poses a threat to two women he truly loves: ex-wife Julia (Michelle Monaghan), with whom Hunt mutually separated for her safety but whose life nonetheless ends up at stake as part of a well-executed third act twist, and old flame Ilsa Faust (Rebecca Ferguson), an M16 agent whose only way "out of the game" is to assassinate Lane.
"Fallout" represents a break in a trend for "Mission: Impossible," as it makes director Christopher McQuarrie, who served at the helm of the critical and commercial smash hit "Rogue Nation," the franchise's first-ever second-time director. And based on the utterly thrilling encore effort McQuarrie delivers here, it's hard to imagine the keys to the franchise being handed to anyone else going forward.
With "Fallout," McQuarrie, who also penned the script, orchestrates a masterful balance of both old and new, infusing the proceedings with vintage elements that harken back to the earliest iterations of "James Bond" (including a delightfully retro opening credits sequence) and taking full advantage of modern cinematic technology without ever overwhelming us with it. Whereas so many action movies today bludgeon us with CGI, McQuarrie utilizes special effects with surgeon-like precision, crafting decidedly healthy doses of high octane action that never feel bloated.

But as outstanding as McQuarrie's work is behind the camera, "Fallout" is above all else a testament to the fact that Cruise, even at 56 years old, is still as capable and bankable an action star as there is in Hollywood today. Say what you will about Cruise's well-documented offscreen eccentricities and unconventional religious practices, but when it comes to starring in movies, the guy pours everything he has into it.
Cruise famously insists on performing his own stunts, and "Fallout" sees the veteran action star push himself to death-defying limits more than ever before in a myriad of unforgettable sequences highlighted by a HALO jump and even flying a helicopter. Plus our inexplicable fascination with watching Cruise in his signature full-out sprint is satiated courtesy of a crowdpleasing chase scene that unfolds along the rooftops of London's famous Tate Modern art gallery.
Though Cruise is the clear standout here, "Fallout" showcases each member of the sterling cast in top form. Everyone from Rhames, Pegg, Ferguson and Cavill in their large supporting roles to Bassett, Monaghan and Alec Baldwin in extended cameos mirrors Cruise's commitment and sense of fun, resulting in performances that suck us into the story as relentlessly as the car chases and ticking time bombs.
Let's call a spade a spade: this movie is simply awesome. Setting a new gold standard in the all too often uninspired "summer blockbuster" category, "Mission Impossible: Fallout" is the kind of film that movie theater popcorn was made for, and the invitation to the movies you should definitely choose to accept.