In 2014, director William Friedkin said, "I would never go back and do another Exorcist. Or anything with demonic possession or exorcism in it. I did it. I couldn't do it any better than that."
Two years later, he was in Rome with the world's most famous exorcist filming a real exorcism for his documentary The Devil & Father Amorth, which opens in select U.S. theaters on April 20. The theater showings are sparse but, starting April 25, you may watch it on movie streaming outlets and buy the DVD.
If the trailer doesn't send chills down your spine, what will? Now I will tell you about the documentary without the chilling spoilers.
Father Gabriele Amorth was chief exorcist in the Diocese of Rome and founder of the International Association of Exorcists. William Friedkin is agnostic.
In April 2016, Friedkin was going to Italy to receive the Puccini Prize for his work in opera. Suddenly he had the impulse to meet Father Amorth, so he emailed a religious scholar friend. To Friedkin's surprise, Amorth wanted to meet him and the filmmaker calls it "providential."
Father Amorth swiftly embraced William Friedkin. On May 1, 2016, he allowed Friedkin to record the exorcism of a woman in Rome that they call Rosa. In the documentary we meet Rosa and her real name is Cristina.
The Bible tells us that Christ was an exorcist and He trained His disciples to expel demons. In the last few years, numerous publications are reporting a rise in witchcraft and demonic possessions. The film was Friedkin's idea and he thinks Father Amorth did it to urge the Vatican to train more exorcists. According to Reuters, on April 16 some 200 Roman Catholics arrived at the Pontifical Regina Apostolorum University in Rome for training, and exorcist Cardinal Ernest Simoni of Albania was one of the speakers.
Friedkin told Nick Vivarelli of Variety: "The conditions were that I come along with no crew and no lights. So I used a Sony still camera that shot high-definition video. I had only that camera running and I was about two feet away from them, probably even closer.
"It was terrifying. I went from being afraid of what could happen to feeling a great deal of empathy with this woman's pain and suffering, which is obvious in the film."
Friedkin took his film of Rosa to medical experts to ask what she suffered. Some scoffed at the possibility of possession, yet others told him that the science of psychiatry recognizes identity disorder/demonic possession and the method of treating it, which requires exorcism.

In July 2016, The Washington Post published As a psychiatrist, I diagnose mental illness. Also, I help spot demonic possession. by Dr. Richard Gallagher, a board-certified psychiatrist and a professor of clinical psychiatry at New York Medical College. Friedkin would have done well to interview him.
Of course, The Exorcist is based on the novel by lifelong Catholic William Peter Blatty, who also wrote the screenplay and worked with Friedkin as producer of the hit 1973 movie. Blatty had based his novel on the true story of a boy, and he and Friedkin exaggerated some details of the child's ordeal. Blatty never meant The Exorcist to be a horror film per se. Fourteen months before he died in 2017, The Washingtonian published Eddie Dean's interview with Blatty and he said: "It's an argument for God. I intended it to be an apostolic work, to help people in their faith. Because I thoroughly believed in the authenticity and validity of that particular event."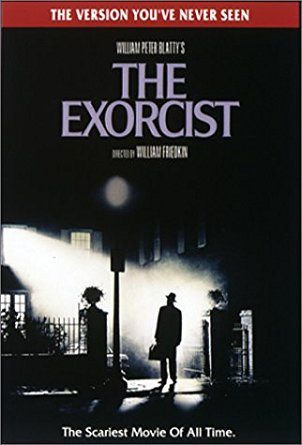 Friedkin features his longtime friend Blatty in the documentary and Blatty says it better there. In The Devil & Father Amorth, Blatty tells why the recut of the movie is better for his audience. Friedkin explains too. The 2000 recut labeled "The Version You've Never Seen" was shown in theaters with great success and is on DVD.
William Friedkin wanted to meet Father Amorth because he read the English-language editions of his books. Friedkin likes to say that Father Amorth praised The Exorcist movie in his book "An Exorcist Tells His Story." Really, in that book Father recalls a priest on Vatican Radio praising the Blatty's and Friedkin's movie:  "He cited the great impact the movie had made on audiences throughout the world as a demonstration that—save some special effects—the film had dealt very soberly with the problem of evil, reawakening an interest in exorcisms that had been all but forgotten."
Father's last book is "An Exorcist Explains the Demonic: The Antics of Satan and His Army of Fallen Angels" and you may read a chapter from it here.
Father Amorth died four months after letting William Friedkin film the exorcism. In his Vanity Fair memorial, Friedkin disavows the Catholic Church, the teachings of Jesus, and the authors of the New Testament. Yet he speaks with great tenderness and love for Rosa and Father Gabriele Amorth.
"I held to the hope that Rosa would eventually re-unite with Father Amorth and that he would free her of her demons, but in late July Father Amorth had difficulty breathing. He had to cancel his appointments and was admitted to a hospital, where he was diagnosed with a pulmonary condition and pneumonia. On Friday, September 16, at 7:37 P.M., he died.
"When I heard the news I was devastated, as were all who loved him. But I thought he'd be O.K. I remembered something he had said to me: 'Do you know why the Devil is afraid of me? Because I'm uglier than he is.' …
"Father Amorth and Rosa's work is not yet finished."
Now what should we expect from William Friedkin?
He said he'd never make another movie about demonic possession or exorcism. Then he made The Devil & Father Amorth, it's in movie theaters, on movie channels and on DVD. Except for the mistake of identifying Auxiliary Bishop Robert Barron as the archbishop of Los Angeles, California, this documentary is excellent because William Friedkin presents Father Amorth to the world, tells why he loves him, and it can help countless people to know the difference between mental illness and demonic possession.