The stroke of midnight is usually a ball killer for fairytale princesses, but the stroke of midnight tonight rings in a whole new celebration for our favorite pop-country music princess Taylor Swift. That's right Swifties, the party begins at midnight tonight and we are all invited! Wait for it….Dong…… At midnight tonight, Taylor Swift is releasing her entire music catalog on Spotify, Pandora, Tidal, Amazon and other music streaming platforms!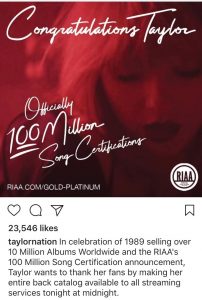 Her official Instagram fan account, Taylor Nation, posted the news Thursday. The announcement read:
"In celebration of 1989 selling over 10 Million Albums Worldwide and the RIAA's 100 Million Song Certification announcement, Taylor wants to thank her fans by making her entire back catalog available to all streaming services tonight at midnight."
This is welcome news from a pop star who has all but disappeared this year. However, the news does raise an eyebrow or two as well. It coincides with another major music event. Katy Perry's album Witness is also being released at midnight tonight.
RollingStone reported May 15 that Katy Perry's new album Witness would be released on June 9 and with it Perry's massive 43-date Witness Tour which begins September 7th.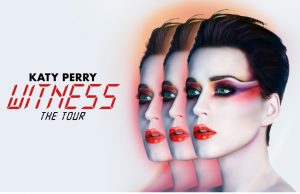 Eyebrows are being raised collectively on Twitter, as reported on Bustle, due to the so-called ongoing feud between the two singers, but I'm not interested in walking down that lane.
All I know is at midnight tonight, Taylor Swift's music will be available on all my favorite music streaming platforms and Katy Perry's new LP is being released simultaneously. Let the stroke of midnight come!