This week, Starbucks announced that they would venture into the world of online digital content by producing a series entitled Upstanders, which is code for "online video series" (a new type of entertainment that is becoming increasingly popular).  
You may ask, "so what?" There are lots of short videos, movies, and TV series out there on the internet, and Starbucks isn't the first company to create their own digital video content, which is partially my point today.  
I have three points, actually
1. That Starbucks is only one of many household corporate names that will begin to create their own video content
2. That this is only possible because of Netflix and Amazon, and
3. This further dooms a Hollywood unwilling to adapt to a changing industry.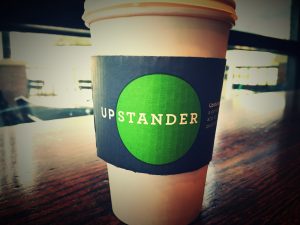 First, if you haven't read any of the stories regarding Starbucks' foray into entertainment production, here's an article that you might find enlightening.
This news should not surprise us all that much. More and more frequently, companies that do not have a direct connection to the entertainment industry have been entering the fray with original content for customers, and others, to enjoy.
In the case of Starbucks, they are creating a series that "is meant to be uplifting, without making political statements." The series is supposedly not branded, but the amount of press the announcement has received, and a large publicity push in Starbucks shops across the country, has ensured that no one will see an episode of Upstanders without knowing that Starbucks is behind it. Starbucks, however, is not the first company to make such a move.
Loot Crate, a subscription box service that curates and ships a set of collectible and "geek" related items to customers every month, has also stepped into the world of web-based digital content. They create video shorts that don't act as commercials, but as entertainment (click here to watch).
There are more examples of similar such maneuvers, but the point is this: The sources of our entertainment are changing rapidly, and Hollywood should be concerned.
How did we get here? I am glad you asked, because that is my second point. Nearly two decades ago, a small startup company began mailing people DVD rentals. Skeptics thought that the business model would never succeed. Today, Netflix is a leader in the entertainment industry, valued at billions of dollars.
Additionally, Amazon Studios have made quite an entrance into the field, already winning multiple Emmys for their online content.
These Hollywood outsiders have proven that it is possible to quality entertainment outside the back lots of Studio City.
At last year's Sundance Festival, Netflix and Amazon bought more indie films than the studios, tilting the playing field as to where up-and-coming directors shop their projects. As a result, other businesses are looking to grab a piece of the pie, especially if it can improve the sales of pre-existing products.
Enter Starbucks' Upstanders.
My third point should come as no surprise, especially after the horrifying summer box office numbers this year. Hollywood is struggling to compete in a changing entertainment market. Instead of going to see another remake or sequel, people are staying at home to watch fare like Stranger Things.
Indie films are being snatched up by Netflix and Amazon, and to make matters worse, non-entertainment based Fortune 500 companies, like Starbucks, are trying their hand at producing original content available to anyone in the world with the click of a mouse.
Studio execs now have a couple options: 1. Adapt to a changing market; or 2. Continue to lose their monopoly on entertainment to the likes of Netflix, Amazon, and other companies that figure out how to make something people want to watch.
Far from hating Hollywood, I actually love that world of magical make-believe. The problem is largely that they have stopped producing things people enjoy, and isn't that the point of entertainment?
I do not know if Upstanders will do well with audiences, or if it will help Starbucks sell more coffee. What I do know is that this is only the beginning of the coming changes, and I hope that Hollywood will somehow get a bit of that old, Tinseltown magic back.