Reader, "Is $14,110 in your everyday clothing budget?"
Gwyneth, "Is 'Bargain Box' in your everyday vocabulary?"
When I go to www.goop.com to visit Gwyneth Paltrow's growing lifestyle site – essentially a collection of everything she likes and abides by that comprises her uber-chic life, a couple things become immediately clear: one, I absolutely adore and wish to emanate Gwyneth's impeccable, timeless sense of style. Two: I can afford nothing. Except for the socks.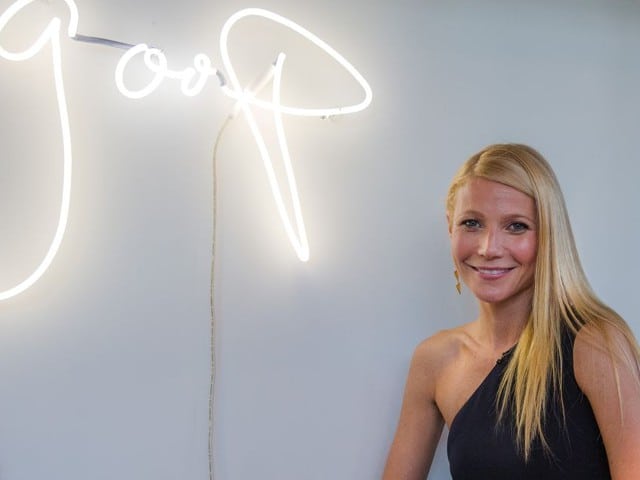 So, I did what any small-town cowgirl would do. I headed over to our town favorite, Cody, Wyoming's own Bargain Box.
I found and purchased five goop-inspired pieces from the Bargain Box for a grand total of $9.30. The original goop inspirations of these items cumulatively come to a cool $8,893 (after some of the items were put on sale.)
Yes, that's just a little more than 1/1000th the price.
The breakdown in photos:
Bargain Box's Dress with a Ruffled Neck: $1.80
Bargain Box's Pink Pleated Dress: $0.00 (free because it had a small coffee stain)
Bargain Box's (actual utility) Romper: $3.00
Bargain Box's Ultra-Suede Flair Skirt (emphasis on ultra): $3.00
Bargain Box's Delicate Faux-Gold Bracelet: $3.00
So, in summary: Gwyneth: we get it. You named your lifestyle site "goop" (actually, we don't get that part…), and you feature wellness articles with titles like, "The Women Making Sex Toys Chic." You're an empowered, progressive woman using all that progressive power to create a site where other women (or men) can learn a little bit of the magic that makes you you. And we all want a little bit of that magic, because damn, it's got to be good to be Gwynyth.
And to be fair, goop really does have an elegant aesthetic and quite a lot of quality content within its "six key pillars:" Wellness, Travel, Food, Beauty, Style, and Work.
But I have to say, when it comes to the style section, the site takes a dive from progressive to, let's say, imperial (read: elitist).
While the goop team promises they will "never recommend something that we don't love, and think worthy of your time and your wallet," my question is, exactly who has wallets deep enough to purchase "true essentials" of which the average cost is around $500 (and many pieces are well over $2,000, with the most expensive accessory coming in at over $13,000) … even if these pieces do "offer true mileage." My wallet certainly is not worthy.
And while I agree it's "better to buy few things that are better," goop's standard of "better" is highly relative. My Bargain Box purchases felt amazing. Do they look markedly worse? I don't think so.
In their style section, goop also claims that they focus on "what you can wear in the day-to-day." But this raises the question: what if we spill goop on our goop Moschettone Silk Dress? Would it become free like my Bargain Box counterpart? Nope, you'd just be out $2,475.00. That doesn't sound like a day-to-day clothing item to me.
We really do love you, Gwyneth. And we give you mad props for making your lifestyle brand a reality. But to be real, when it comes to claiming you're selling "day-to-day" attire, you might need to come back down to earth where we mere mortals live, even though we know for you to do so it will have to be one seriously steep, descending swoop …
Fair reader: what do you think? Would you prefer Bargain Box picks or goop.com's? Expense, included…