Serena Williams is pregnant with her first child, though the tennis star has decided to remain private about the matter. The star athlete posted her baby bump to Snapchat on Wednesday, April 19th, with the caption "20 weeks." However, the 7-time Wimbledon Champion immediately deleted the post.
This is Serena's first child with her fiancé, Reddit co-founder, Alexis Ohanian. Her relationship with Ohanian has remained private until their engagement was announced in December. Despite the deleted Snapchat post, the pregnancy has been confirmed.
"I'm happy to confirm Serena is expecting a baby this Fall," said the tennis star's representative.
Shortly after their engagement was made public, Serena was asked when the big day was.
"I really haven't thought about it too much," said Williams, "because I wasn't even really going to think about it until after the tournament."
Williams made certain to say she is "really focused on Australia." And went on to say that she doesn't want to talk about anything "until this tournament is over and done with."
Oddly enough, Williams went on to reveal to The Project that she thinks "in a different life I would have been a wedding planner."
Serena is most definitely, like her sister Venus, quite the dominator. The 35-year-old athlete was ranked number one in the world in singles on seven occasions from 2002 to 2017 by The Womens Tennis Association. Winning more Grand Slam titles than any other player in the Open Era, Williams earned her 23rd at the Australian Open in January, apparently while pregnant!
This well-known, well-respected, accomplished competitor holds quite a number of titles. One of them was being named "Sportsperson of the Year" by Sports Illustrated magazine in 2015 where she was also on the cover.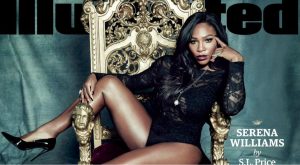 Fans admire her commitment and self-confidence, as stated in a few of her other magazine covers, (not counting Sports Illustrated). She's the picture of "female strength and empowerment" many say.
Unfortunately, but understandably, it looks as though she will not be playing again in 2017. Williams reportedly is looking forward to her return in 2018, though, and we look forward to seeing her compete again!