You're tired of politics and not a football fan? Then catch these classic films on Turner Movie Classics this weekend. I'm always surprised to learn how many friends have never seen some of the best movies ever made, just because they were made years ago. Here are four you don't want to miss.
At 7:30 AM, CST Saturday morning is the film noir classic, The Postman Always Rings Twice  from 1946.  Adapted from the best selling novel by James M. Cain, it stars Lana Turner, John Garfield, Cecil Kellaway, and Hume Cronyn. Lana Turner's of course the femme fatale. When she shows up in her starched white shorts outfit, complete with turban and white pumps, she's clearly not planning on spending the rest of her life helping her husband fry pork chops at the diner. She just might get dirty. It's typical noir. People get used and people die.  It may be a little early in the morning for this kind of movie, so you can always record it to watch later.
Go have lunch, but get back in time for Elia Kazan's A Face in the Crowd at 3:00. (1957) Born in Istanbul, to Cappadocian Greek parents, what is it that made immigrant director Kazan so skilled at movies set in the American South? Think of Streetcar Named Desire, Wild River, Baby Doll, and this. After watching A Face in the Crowd , you will never look at the Andy Griffith of Mayberry in quite the same way. This was his first film as well as Lee Remick's. Patricia Neal and Walter Matthau also star.  In 2008, the Library of Congress selected  A Face in the Crowd  for preservation in the United States National Film Registry, because of its cultural, historical, and aesthetic significance. Kazan's 1957 warning of the dangers of mixing entertainment and politics seems especially prescient.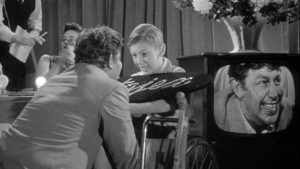 Shane (1953) comes on at 7:00 PM, CST Saturday evening. Directed by George Stevens, and staring Alan Ladd, Jean Arthur, Van Heflin, Brandon De Wilde, and Jack Palance, Shane is #45 on the American Film Institutes's list of the best 100 movies of all time. It's on every list of top westerns. You might recognize the most famous line from the movie, "A gun is a tool, Marian; no better or no worse than any other tool: an axe, a shovel or anything. A gun is as good or as bad as the man using it. Remember that."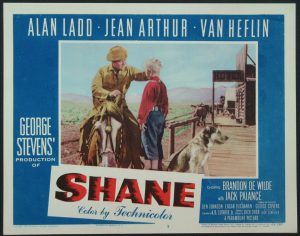 Then Sunday night at 7:00 PM, CST, complete your weekend film festival with Stormy Weather (1943). This all black cast musical was a showcase for some of the best talent of the time. It's loosely based on the life and times of its star, legendary dancer Bill "Bojangles" Robinson. You have perhaps seen the amazing "Jumping Jive" sequence on social media. Fred Astaire told the Nicholas Brothers theirs was "the greatest movie musical number he had ever seen". The cast includes: Lena Horne, Bill Robinson, Cab Calloway, Katherine Dunham, Fats Waller, The Nicholas Brother, and Dooley Wilson, the piano player in Casablanca. Beautiful Lena Horne sings the old Harold Arlen tune, "Stormy Weather," and Fats Waller sings his song, "Ain't Misbehavin."