There was a crooked man, and he walked a crooked mile.
He found a crooked sixpence upon a crooked stile.
He bought a crooked cat, which caught a crooked mouse,
And they all lived together in a little crooked house.
Some say this old nursery rhyme refers to the time of King Charles I and the border disputes between England and Scotland. But it has always seemed to me to be more about the Fall described in the book of Genesis and it's affect on all creation. Nothing is quite the way it should be for any of us- man, money, cat, mouse, stile and house, every aspect of the world is crooked. And we are all in it together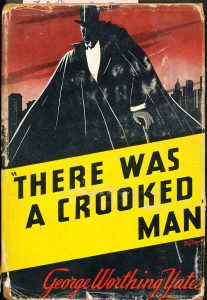 W. H. Auden speaks of the crookedness in relationships in his poem, As I Walked Out One Evening. You are probably familiar with these memorable lines from the poem:
O stand, stand at the window
As the tears scald and start;
You shall love your crooked neighbour
With your crooked heart.
I suspect Anne Lamott had this poem in mind when she titled her book.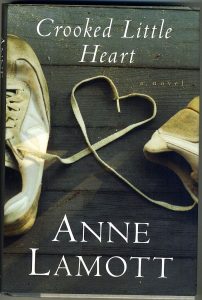 The word "crooked" seems to sell books. Publishers can't get away from it. We have crooked shadows, hinges, men, circles, towns, rivers, candles, arrows, roads and crosses. From a quick glance at the books above the title, it seems that the writers have decided that pretty much everything in the world is amiss. Even Dale Evans finds herself tied up in Crooked Canyon.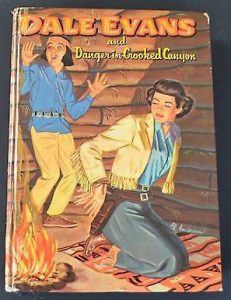 I've had a longtime fascination with the sleazy covers of these old books. They used to call to us off of revolving metal book racks at drugstores and airports, encouraging us to imagine the worst kinds of human behavior. We'd get a whiff of evil. We'd flirt with it, but it was safe onstage separated from us by the orchestra pit- or the stylized images of the artist's hand. Viewing it from a distance, we could laugh at the over-the-top illustration on the cover. These books remind me of French philosopher, Simone Weil's observation,  "Imaginary evil is romantic and varied; real evil is gloomy, monotonous, barren, boring. Imaginary good is boring; real good is always new, marvelous, intoxicating."
Not long ago, I used a paperback edition of Agatha Christie's "Crooked House" on a collage. I wanted to refer to the old nursery rhyme and loved the melodramatic cover illustration.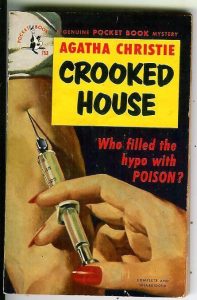 The title of the collage is But In the End It is Only a Passing Thing…This Shadow. It's from something Samwise Gamgee said in The Two Towers by J.R.R. Tolkien.
I know. It's all wrong. By rights we shouldn't even be here. But we are. It's like in the great stories, Mr. Frodo. The ones that really mattered. Full of darkness and danger, they were. And sometimes you didn't want to know the end. Because how could the end be happy? How could the world go back to the way it was when so much bad had happened? But in the end, it's only a passing thing, this shadow. Even darkness must pass. A new day will come. And when the sun shines it will shine out the clearer. Those were the stories that stayed with you. That meant something, even if you were too small to understand why. But I think, Mr. Frodo, I do understand. I know now. Folk in those stories had lots of chances of turning back, only they didn't. They kept going. Because they were holding on to something.
Samwise asks, "How could the world go back to the way it was when so much bad had happened?" In other words, how can we straighten out all the crooked things?  There is a longing in every human heart for justice, resolution, restoration, and perfect love. For things that are good, true and beautiful. For life not death. How do we fix a crooked world when we are part of the crookedness? We can't do it by ourselves. Every effort at utopia ends in dystopia. Are we foolish to even desire something better?
Simon Conway Morris, Professor of Paleobiology at Cambridge University, wrote, "Suppose that the moral structure, the ethical voice, the heart-wrenching aesthetic, the endless yearning for a world made good, are not the fantasies of a deracinated ape, but rather are signposts to deep realities in which our destiny may be involved."
This longing for the crooked to be made straight goes back to the time of the Old Testament prophets in the 8th century BC when Isaiah wrote that one day, "Every valley shall be exalted, and every mountain and hill shall be made low: and the crooked shall be made straight, and the rough places plain." (Isaiah 40:4)
First century historian, Luke, tells us that John the Baptist quoted this passage as he was preparing the way for Jesus' ministry. Luke later described Jesus healing a woman whose back had been crooked for eighteen years. Jesus healed that woman with compassion and love, but His action was also symbolic of things to come. As D. L. Moody wrote, "The law tells me how crooked I am. Grace comes along and straightens me out." But that brings us to a whole other subject, one for another post.
In the end, it's only a passing thing, this shadow. Even darkness must pass. A new day will come.