Growing up in Houston in the 50s and 60s, our world was shaped not just by television but by the magazines and newspapers that arrived at the house- mainly my mom's Vogue, Harpers Bazaar, House and Garden, Town and Country and Antiques Magazine.  My sister and I shared Children's Highlights, National Geographic and later Seventeen and Mademoiselle.  We occasionally glimpsed at my dad's Fortune and Wall Street Journal.  And of course we all shared Life magazine.
My sister and I were curious little girls and teenagers, poring over the images and text, looking for clues about life beyond Houston and what it's like to be an adult. We viewed for the first time photographs by Irving Penn, Cecil Beaton and Richard Avedon without knowing their importance.
Our magazines regularly published writers such as Truman Capote, Joyce Carol Oates, William Faulkner, Tennessee Williams, James Baldwin, Flannery O'Connor, Jane Smiley, Mary Gordon, Barbara Kingsolver, Alice Munro, and Jean Stafford, but we seldom payed much attention to those. We hadn't started asking the big questions, questions of the deeper and sometimes darker things, of the things that last and the things that don't.  What interested us most were the pictures and the small ads in the back of the magazines.
Of all those small ads, the ones that held the most magic for us were those for the Barbizon Hotel in New York City. "Ambitious, discriminating young women" could live there while pursuing their dreams of fame and fortune.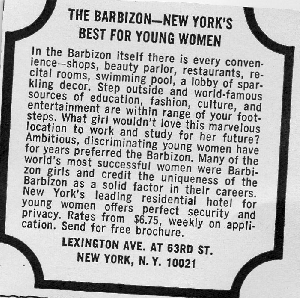 …the Barbizon has a strong association in popular culture as a rite-of-passage for "small-town" girls trying to make it in Manhattan. It acted as a kind of nexus, bridging the old world of supervision and parental control with the alluring world of the city, energizing many of its residents with the prospect of work, freedom, and, of course, men.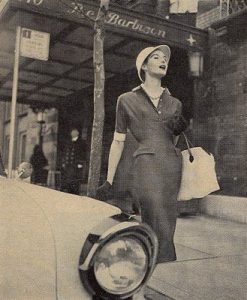 Look at this list of former occupants, and you will understand why the hotel seemed so glamorous. Residents included Lauren Bacall, Barbara Bel Geddes, Candice Bergen, Betty Buckley, Peggy Cass, Joan Crawford, Joan Didion, Edna Ferber, Grace Kelly, Cloris Leachman, Dorothy McGuire, Jennifer Jones, Liza Minnelli, Jessica Savitch, Nancy Davis [Reagan], Cybill Shepherd, Jaclyn Smith, Elaine Stritch, Gene Tierney, and Eudora Welty. From 1947-52, Edith Bouvier Beale, of Grey Gardens fame, lived there. In 1932, Titanic survivor Margaret Tobin Brown, "Molly Brown," died there. Sylvia Plath based "The Amazon," the residential hotel in The Bell Jar, on the Barbizon.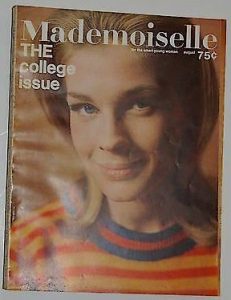 To insure that only the "right kind of people" lived there, the Barbizon required residents to supply three letters of recommendation. They enforced dress codes and codes of conduct. And they never allowed men above the lobby floor.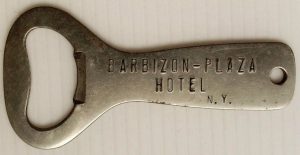 Tied to the Barbizon in our minds was the annual competition among thousands of high-school graduates to be selected as one of twenty "guest editors" for Mademoiselle magazine.  We waited every year for the annual August college issue to see the fall styles, but also because we were curious to read about the guest editors, who not too much older than we were, seemed so much more sophisticated and glamorous. Those girls not only got to live at the Barbizon for the month of June, they were introduced to the life of the New York "smart set" with visits to publishers homes, Broadway shows, cocktail parties and museums. Betsey Johnson, Joan Didion, and Ali MacGraw were all alumni of the program.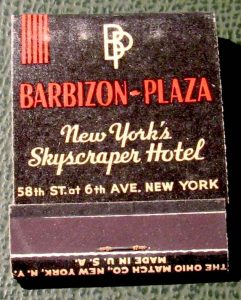 Later in life, I had an opportunity to meet one of those girls, Emilie Griffin, who in June 1956 at age 19, left New Orleans to become a guest editor. Her name then was Emilie Russell Dietrich. Those who know Emilie Griffin's many books on spiritual topics may not associate her with the worldly life of Mademoiselle.
What a time she had! During her month in New York, she met Margaret Truman Daniel, daughter of President Harry Truman, and Margaret's husband, Clifton Daniel, then editor in chief of the New York Times. She met actors, Ruth Gordon and Robert Morse, and producers, Jason Robards and Kermit Bloomgarden. She saw Julie Harris and Boris Karloff on stage. Most fun of all, she visited the apartment of cosmetic mogul, Helena Rubinstein.
Emilie Griffin shares some of these memories in her essay, "The Lure of Fame," from a wonderful little book, Ambition, edited by Luci Shaw and Jeanne Murray Walker. She is working on a memoir on those times. In the meantime, she's given me permission to share a portion of her essay:
Perhaps the most amazing memory was of Madame Helena Rubinstein. My brief meeting with her was a landmark moment. She was perched on a handsome sofa at one end of a long room, wearing an elaborate Chinese dress and exquisite embroidered shoes. In her eighties I guessed, she was diminutive. Her feet dangled, almost like a child's barely touching the floor. She might have been an item in her own collection. Yet her empire, represented by the collection itself, was impressive. Twenty bright young guest editors from Mademoiselle had been invited to tour her apartment, a three story cooperative on Park Avenue in the Sixties. Arriving from a reception where we had feasted on little sandwiches and glasses of sherry, we were welcomed at Madame Rubinstein's and went from room to room, viewing her stunning personal collection of art and artifacts. Some were by notable contemporaries, including Salvador Dali and Pablo Picasso. Works by these notables were actually painted on the walls, and signed by the artists themselves: "To my darling Helena from Pablo" and "With affection, Salvador."
As the history of the collection was explained, I realized that the artists in question had not fully known who they were or how famous they and their works would become. Madame Rubinstein, herself an ikon, had spent her life in the struggle to build an empire based on cosmetics and cold cream. Everyone—all the actors in this life-drama—were driven by a longing to achieve without a sure guarantee of success.
I thought, too, about the life achievement of the guest editors who had been with me that day. Then, we had been young hopefuls, starry eyed and naïve. Twenty years later, many of us had made names in education, journalism and the arts. Some had won Pulitzer Prizes and had written notable memoirs. Possibly their names were well-known. Each young woman in that group had her own brush with celebrity and renown. Although their achievements may stand their high reputation was, well, precarious.
It is all about faith, I thought. It is about a kind of faith that acts in confidence, with a sense of the gift of talent and insight, but without any guarantee of notoriety or fame.
For a moment, my vision was clear.
After Mademoiselle and then Tulane, Emilie Griffin returned to New York where she excelled in a career in advertising and marketing, becoming a VP at Compton Advertising, now owned by Saatchi & Saatchi. She and husband William Griffin, C.S. Lewis scholar and editor for two decades at Macmillan Publishing and Harcourt-Brace-Jovanovich, lived in New York City for twenty years before returning to Louisiana.
Yes, we were "young hopefuls, starry eyed and naïve." The world of my young fantasies disappeared from New York many years ago. Maybe it never existed. I'm sure it didn't. We all know too well the sad ending of Sylvia Plath's life, a girl who once had a coveted spot among the guest editors. The 1961 Breakfast at Tiffanys I saw at ten was full of more heartbreak than I understood. Growing up, I learned that those whose faces never appear in magazines sometimes make the most lasting contributions and live the most significant lives. Still, I loved that imagined world.  I still see an occasional glimpse of it in particular places in New York like Bemmelman's Bar, La Grenouille, and Birdland, in the opening of Woody Allen's movie, Manhattan, and in the writing of my friend, Emilie Griffin.
For those who want to know more about this time and place-
Here's Laurie Levy on her memories of Sylvia Plath at the Barbizon.
Life Lessons from a 1956 Mademoiselle- a glimpse of the pages of the magazine.
Michael Callahan on the Sorority on E.63rd.
Former guest editor, Joan Paulson Gage's suggestion that someone bring back the competition.