It's not everyday you meet a professional Israeli dancer with honey blonde hair, caramel melt eyes, and a heart of gold.
I was enchanted with Roni Rotem from the moment I saw her on the first night of the Camino Frances in Roncevalles. Instantly, we became best friends.
A few days into the Camino, Roni excitedly told our group that a music video in which she had danced for Israeli artist Oren Lavie had won a big award at South by Southwest [The Jury Award].
We all gathered round her phone as she showed us the video for "Second Hand Lovers." It wasn't hard to understand why it won. Watching the video, our minds = BLOWN.
Lavie, a friend of Roni's, already had a reputation for producing stunningly original videos to accompany his hauntingly romantic music – nearly a decade ago, he won all kinds of awards and global recognition for Her Morning Elegance, which has 33 million Youtube views. (If you haven't seen this video, watch it immediately). So when he decided he wanted to work with some of Tel Aviv's most talented dancers for the music video to one of his new releases, and asked Roni to dance in it, she was like … Yeah!
He selected dances diverse in both style and appearance.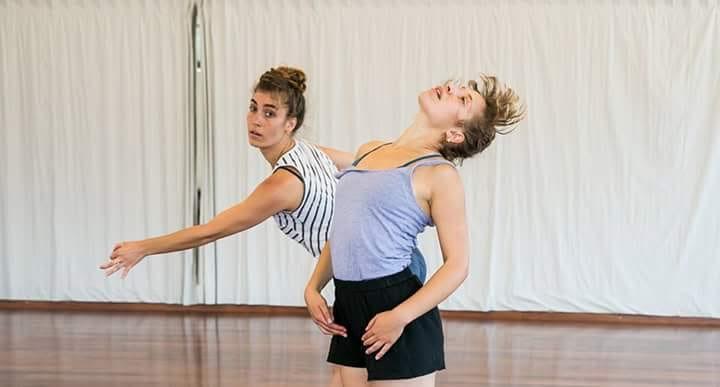 "He collected a lot of dancers who looked really different from each other," Roni told me during our WhatsApp interview. "Blonde [that's Roni], red hair, short hair, dark skin, and all different styles of dancers." 
Roni's own teacher – who originally introduced her to Lavie – choreographed the hair-raisingly intricate, exquisitely synchronized dance in the video. Lavie worked closely with the dancers and choreographer to bring his vision for his heart-wrenching song to life.
"She is one of the best teachers I've ever had, and she's one of my mentors," said Roni of the video's choreographer. "We had two days of shooting the video at an apartment in Tel Aviv, but before the shooting we had a lot of rehearsals. We just tried to go with [Lavie's] imagination and understand his images. He kept explaining to us what he wanted to bring to the audience and his idea. He started collecting things and making choreographies from them, making a lot of interesting pictures like the part where we all do the spoon with his coffee with a wave like a really long hand.
The dancers in the video portray all of Lavie's ex lovers, who are always with him despite a new love moving into his life and apartment.
"He wants to continue, he wants to move on, but something about his ex girlfriends are always around – smiling into his morning coffee," Roni explained of the premise. "Everything is about trying to move on, but you can't because of the memories. I was even more connected to the story – I think I did a good job because to me, it was real."
Indeed, the storyline was much more real to Roni than any of the other dancers. The main actress chosen to play Lavie's new girlfriend in the video – Daniella Wircer – was none other than Roni's own real life boyfriend's – Israeli actor Nir Barak – ex-girlfriend.
"For me it was a bit hard because the main actress is my boyfriend's ex-girlfriend. I didn't know she was going to come – it was supposed to be someone else, but at the last minute, the person who was supposed to do it was sick. So I saw her walk in, and I was like what?" said Roni. "She's really beautiful so I felt a bit weird being around her, and she's the main character and I'm a side character … the whole staff knew and felt the tension between us." 
So while Roni plays an "ex-girlfriend" in the video and Daniella Wircer plays Lavie's new girlfriend, in real life the roles are reversed: Roni is Nir Barak's "new" (they've been dating for five years now) girlfriend while Wircer is, in fact, his ex.
"It was so funny because the video clip was about ex girlfriends, and I'm like the new girlfriend, so it was opposite rolls!" Roni said. "[Daniella]  was really nice. We talked, and it was good, but spending a whole two days with someone that you know dated your boyfriend is a bit weird… But I think it made me feel more connected to the story."
But while Roni might not have scored the role of leading lady in the video, she certainly was a memorable – and recognizable! – character in a music video that is making a big splash in the global art community.
"It was funny because after the Camino, I did a dance workshop in Porto, [Portugal], and three girls from the workshop recognized me from the video clip," said Roni. "They came to me and said, 'Did you dance in this video clip?' And I was like, 'Yeah, how did you recognize me?!' It's crazy."