In the final installment of this three-part series, we find out how David Francisco's journey to "American Idol," how he and Kristi finally made it to the altar, and what one wedding guest's attendance has to say about the power of forgiveness.
Chapter 7: "Yes, This Is It"
"Until Kabboo, I was guarding my own heart," David says. "I felt, 'Man, I don't know what a relationship's gonna look like. I'm so emotional.' I mean, I literally cried for the first three months. I just wanted to be careful and get to know [Kristi]."
Kristi also hadn't allowed her feelings to turn romantic until it became undeniable that a once-in-a lifetime-love had found her.
"I was in the same mindset of, 'This is my single season.' I just got out of this really bad, long relationship, I'm experiencing life, making new friends," Kristi recalls. "We were both in this mindset of having had this really big healing moment, and still kind of in it and moving forward. It's crazy, the timing – how perfect it all was."
At long last, David responded in kind to Kristi's original letter.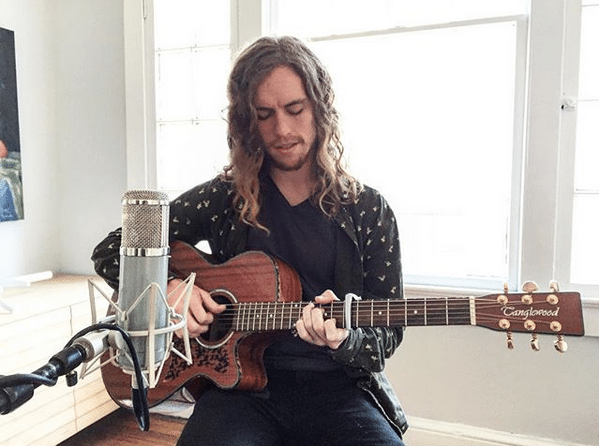 "Soon after he flew back to Tennessee, he said, 'Hey, how about we keep in touch and write letters,' because of that letter I wrote him at the beginning in the hospital. In my brain I thought, 'Yeah, sure, guys just say things to make girls happy,'" Kristi admits. "But we actually ended up doing it. He wrote the first one. We wrote letters slowly back and forth. We have this little stack of courtship letters … It was really fun to look forward to."
By this time the couple was eager to connect through any medium possible to close the long distance between them.
"We also obviously texted and talked every day," says Kristi.
Being the genuine guy that he is, David preferred real talk over text.
"David is not a good texter," Kristi confirms. "He would rather call me. We started Facetiming. And then we were Facetiming every day for, you know, a year…"
They couldn't wait long to see – or, finally, for the first time kiss – each other.
"After the Kabboo Festival [in September] it was like, alright, something's gotta happen,' Kristi says. "I went and visited in October."
"That's where the first kiss happened," David jumps in.
"But before the first kiss, what happened?! David?" Kristi prompts. "The song…."
"Oh, right!" David says. "Before she came, I had written, 'She Makes Me Wanna Sing.' The cool thing about that song is it's not necessarily a love song as much as a, 'Wow look at how she sees me. What a beautiful thing.'"
Since Kristi fell in love with David's music before David himself, his live performance of the song he wrote for her almost was too much to handle.
"It was very raw: I land, and a few hours later, he plays me this song. I couldn't even cry because I was so happy," Kristi remembers. "I was the girl, months before, who fell in love with his music before I even knew him. Fast forward, this guy whose music I love, he wrote a song about me. So I was freaking out inside, my fan girl came out hard core."
The kiss had become inevitable.
"Later that night when we were hanging out was our first kiss," says Kristi.
"Yeah, let's just get this over with!" David laughs.
Kristi returned David's gift of song with hers of dance.
"We were exclusively, intentionally getting to know each other – this was the courting phase," Kristi says. "Then his birthday was in November, and I couldn't fly out again for his birthday so my gift was choreographing a dance to ['She Makes Me Wanna Sing'] … I choreographed the dance with a chair in it; the chair represented David and the wheelchair. … I sent it to his parents, and they showed it to him on his birthday, and he cried."
"That was tears," David verifies.
This intense courtship began barely half a year out from David's life-altering accident. Kristi played a major role in David's continued healing.
"Everything was still very fresh," David says. "In October, I'm on the walker for the most part. November, by the time she sends that video, I'm starting to use forearm crutches. By the end of that year, I was half and half forearm crutches … I took my first step towards Kristi, actually; we have it on video."
Come Christmastime 2016, it was time to make it official.
"In December, David and his Dad came out here, and I took them to Disney [where Kristi dances and plays Disney princesses professionally], and that night, he officially asked me to be his girlfriend," she says.
"I'm like, 'We are already dating,'" David says of his thoughts on their romantic status at the time.
"But I was like, 'You have to ask me!'" Kristi insists.
So David and Kristi officially dated cross-country long distance as David returned to Blackbird Academy to complete his sound engineering degree.
"We were long distance for the next seven months," David says. "I went back to school in January of 2017, I was on forearm crutches pretty much full time… It was a six month program that ended in June, and we had visited each other about every three to four weeks. But the rest of that was FaceTime. We got to know each other pretty well. It seemed really clear to us that, 'Yes, this is it.'"
"We knew early on," Kristi adds.
A certain question, followed by a cross-country relocation presented the natural next steps.
"Two days after I graduated from class, I proposed," David says. "Then I ended up moving to California. Kristi has a job there, I have a portable job, so let's do California."
Once David moved to California to be near his fiancé, pieces began to fall into place surrounding his music career.
"That fall [of 2017] is when American Idol discovered David, and The Ellen Show actually reached out, too," Kristi says.
American Idol learned about David from another show that clearly missed the boat when it came to not bringing David on as a contestant.
"American Idol got my name from America's Got Talent," David recalls. "I auditioned for that show and didn't get a call back, which is ironic because American Idol went viral."
But before everything began coming together romantically and musically for David, he made some vital choices that fostered his emotional, as well as physical, healing.
Chapter 8: "Broken Things Can Be Made Beautiful"
Not long before David's original Los Angeles meet up with Kristi, he met another person – via text – who already had forever changed his life, and was about to do so again.
"I got a text message, and it started, 'Dear David … So many nights I've listened to your music and stayed up and sat in silence and been haunted,'" David recalls. "It was the most poetic text message, beautiful and dark and weird and crazy. And it was from the driver – Freya."
In a sudden rush, the accident that had hurtled David into a completely unexpected reality became real: He was talking to the person responsible for it.
"I just remember reading it and being like, 'Oh my God, it's real,'" David says. "Because up to that point, I had never talked to this person; I hadn't been allowed to. It was really, really nice to actually hear from her and just know it was real. It gave me closure on that piece of the accident."
The woman who texted David was not the same woman who ran a red light that day in late April of 2016. The Freya who was driving the car that hit David on his bike in Nashville had died – literally.
"It was a really encouraging, sweet message, but also really sad," David says of Freya's initial text. "She had overdosed after the accident. She was a heavy user – overdosed, died, came back to life. Her heart stopped. [She] woke up in the hospital and had a second chance."
From the moment he awoke in the hospital following the accident, David chose forgiveness for the driver who hit him – whatever the circumstances, whoever the person.
Now, given the chance to connect with Freya – a real woman, with a story and a name – David responded to her with warmth and a heart open enough to form a friendship.
"I messaged her, 'Man, it's really great to hear from you…' I sent her a long message back," David says. "We corresponded after that a little bit; she sent me a Christmas gift. It was cool – we kind of had this relationship."
While most would have chosen to go to court to condemn the person who caused such irrevocable damage to his life, David and his family chose to waive all charges, allowing Freya a new beginning in place of a life sentence.
"Sometime that fall, my Dad went to the court date, and we didn't press charges," David says. "Her attorney told my Dad, 'What do you want to do?' and he said, 'What would be good?' … So she ended up doing community service and then going to the halfway house [which is where she was when she first texted me]."
When David returned to Blackbird Academy in Nashville, Freya also was in Nashville at the halfway house. Almost a year and a half after the accident, they coordinated a meet up at a locale that, it seems, might only have existed to host this fateful meeting.
"We met up at this coffee shop – I can't believe it – it was called the Red Bicycle," David recalls. "And it's closed now. It's insane."
The reunion broke through barriers so painful only love could hold the flood of emotion.
"I walked in not sure what to think, but just excited to put a face and a person behind all this," David says. "So I walk in, and she goes to me … She thought I was gonna roll in in a wheelchair, but I'm on my forearm crutches. And I said, 'Bring it in.' It was like a movie: Thirty seconds of just silence, just a hug, and all the weight just being broken."
Forgiveness – and reawakening from her heart-stopping overdose – has revitalized Freya's passion for living.
"We ended up talking for about an hour and a half, sharing, and I got to know a lot more about her story," says David. "It turns out, she's had her own redemption. Because she was freed from the accident because I forgave her, she was able to move forward. She's clean now – not using drugs. She's reconnected with her mom. She's reignited this passion for animals; she wants to be a vet."
"She's also a beautiful artist. She's sent David multiple pieces that are really impressive," Kristi adds.
Freya re-entered David's life just as David and Kristi's romance began in earnest. The couple not only invited Freya into their shared heart, but also to their wedding—or rather, to their second wedding.
"We had our wedding in California, but I'm originally from Illinois, and obviously David's from Tennessee, so we knew not everyone would be able to make the journey," Kristi explains. "We had a second, smaller reception in Knoxville – more casual – after we got back from our honeymoon … I wore my wedding dress, he wore his outfit … Freya came to that reception – that was the first time I met her."
Kristi sees David's forgiveness of Freya as a living example of biblical instruction. She cites the divine results such mercy can produce, absolving unthinkable offense.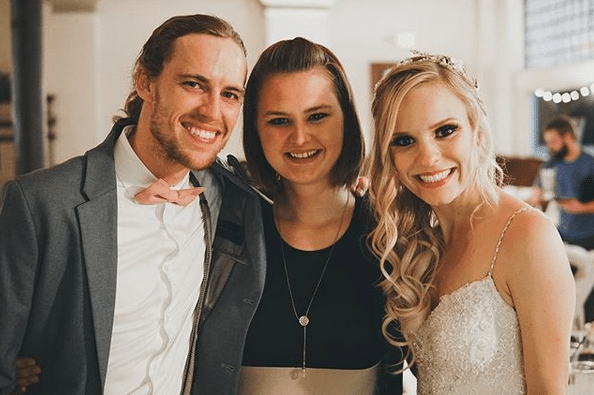 "There's a parable in the bible where they're going to stone someone, and Jesus says, 'He who is without sin may throw the first stone.' And basically everyone's like 'Oh, well, I can't because I've sinned,'" Kristi says. "That imagery when David first woke up and realized, 'Someone hit me, please tell them I'm okay, and I forgive them…' Everyone else is around him [saying], 'We're so angry,' but David started that ripple effect, and everyone else only could back off because if David's not going to be angry at the girl, what right do we have to be angry?'"
Where David could have sent the driver who hit him to prison, he chose to welcome her to his wedding.
"Instead of it all permeating as anger, it's permeated as love and forgiveness and care," says Kristi. "It was such a beautiful climactic point that this girl who, two years prior, changed David's life forever, is now at David's wedding reception and being embraced by David's community and family."
Such unconditional forgiveness has become a rarity near to the point of extinction.
"We have [wedding] pictures of her dancing with our friends and having conversations with my family and David's family," Kristi says. "That doesn't really happen in today's society, unfortunately. I feel a lot of people have connected with that side of the story. That's what we're missing."
David is one of the very few exceptional humans who truly practice what they would preach – even in the face of absolute devastation. The outcome merits the sacrifice.
"David is always saying: 'What brings life to this situation? What works?'" says Kristi.
"Because of that initial forgiveness, and that compassion for Freya, it brought life to her life. And now look where she is."
Had David chosen resentment over resolution, blame and punishment would have festered where hope and love have flourished.
"The opposite could have been true if they'd sentenced her to prison," says Kristi. "Her life would have spiraled downwards, and she would not have felt worth. Not having a second chance, who knows where she might be … Because of those initial choices, her life has now been redeemed."
David's courageous actions in the face of cataclysmic tragedy have redeemed his own life as well as the lives of those close to him. He chose to endure the test of the darkest night imaginable to prove that – through faith and perseverance – the most glorious of mornings can follow.
"I believe in God," David says. "I don't know the details about God, but I've experienced the idea of redemption in my own life. It's been so cool to live it out and be like, 'Wow, look what happens: Broken things can be made beautiful. I've seen that in my own life. And that's the big theme of this season."
Epilogue: "To Encourage People And To Bring Light Again"
As in the best fairytales, a happy ending is coming together for the lionhearted hero. David has defeated an opponent more menacing than any dragon (paralysis), married his one true love (who is a real life Disney princess), and this month, he's taking the stage at the very festival where only two years ago, Kristi and his Dad had to hoist him up just to see the stage.
Not to mention, his old friend Katy is playing there, too.
"David's actually playing at the Kaaboo Festival this year, so it's all coming full circle," says Kristi. "And Katy Perry is playing this year. … That would be the third time that David and Katy have crossed paths, which is crazy."
"Third time's a charm!" David comes in.
Another chance meeting with Katy Perry would indeed be fortuitous, but when it comes to sharing his music and message, David already has a three-pronged game plan of his own that he's well into executing.
New Album
Firstly, David is getting his own music out there with a new album: Lionheart.
"To go through this journey has been my burden, and also my blessing," David says. "Now it's something I almost have the responsibility of sharing – to encourage people and to bring light again; it's as simple as that. I'm trying to accomplish that with this album I'm recording – the first full length album I've written since the accident."
"It's intense," says Kristi, whose song "She Makes Me Want to Sing" will be on the album, and already has released as a single.
"They're intense," David agrees of the album's songs. "But there are some fun ones. It's very much a, one song will be groovy, and the next song will make you cry, kind of thing."
David's Dad, John, who acts as his manager and might compete with Kristi for the position of David's No. 1 fan, loves how all the album's songs tie together in a larger narrative.
"It's going to be epic," John says of the album. "It's different than most albums today – it's not just a collection of songs; it's a story. There's a story woven throughout."
The album's title track also has released as a single.
"'Lionheart' is kind of a theme song for me," David says. "And there's one called 'Not a Victim' that I'm pretty passionate about. Yeah, that kind of gives it to you, doesn't it: Not a victim.'"
Inspirational Speaking
This sentiment against victimhood goes beyond song.
"I want to start a movement called 'Not A Victim,'" says David. "That's the thing we're missing today – that we don't have to respond a certain way to what happens to us … My whole thing is: You might have been cheated, you might have been wounded, but that doesn't mean you have to respond a certain way. What if you responded a different way? And get over the fact it's 'not fair,' and just move forward?"
By consciously choosing not to view himself as a victim after the accident, David leads an empowered life where seemingly impossible dreams become realities. He wants to encourage others to choose empowerment over victimhood, so they too might experience the glory that can follow.
"That's my journey, and I feel like I've had such a full life and experience because of it," David says. "If everyone on earth was saying, 'You know what, I'm not going to be a victim of my circumstances,' I just think that would be such an incredible world."
David isn't the first bearer of this message. He's found great inspiration in those who overcame hopelessness – and strove to show others the light – before him.
"Man's Search for Meaning by Victor Frankl was one of the first books I read [after the accident] … it's the most helpful book I've read since the accident, for sure," David says, quoting one of the books most famous lines: "'Suffering ceases to be suffering the moment it finds meaning.'"
David plans to utilize as many mediums as possible to share the meaning he's found through his suffering.
"Since the accident, [David has] got a renewed message," says his Dad, John. "The passion still exists, but now he's got a lot of things to say – because of his accident – to offer hope and encouragement to people. The best way to do that is not just through music, but also to add speaking engagements."
Production
While David has his own gift for music, the Blackbird Academy sound engineering graduate also possesses an expert knack for helping others create and share their music in its best possible form.
"He's a very talented producer, and he's got his own music studio," says John.
John wishes he'd known a producer like David back in the days of his own budding musicianship.
"I'm a flunky singer songwriter, but in the day, when I was 19 or 20, I used to write songs, and they were mediocre," John admits. "But I would have loved to have had a David to go to, in a small little home studio, where it didn't cost me a fortune. For him to take my song and make it better – he's got a gift for that."
Prologue to the next installment
A little over two years ago, David Francisco took off to Nashville to pursue his dream of attaining a sound engineering degree. He also had his first EP – Colors – to prove he was well on his way to his dream of being a professional musician. And somewhere in the background of all his musical progress, he dreamt of finding his true love and one day starting a family.
On April 27, 2016, it seemed any possibility of those dreams coming true had ended.
But in so many ways, that was the day all David's dreams began to come true.
"And I'm starting to kind of look more and more like before the accident," David says.
And certainly, as his strides grow surer every day, this is true. But the David now, after the accident, is so much stronger and more complete than the David before the accident ever could have fathomed becoming.
He has a lion heart, and a girl who makes him want to sing.