We're living in a 21st century wilderness.
On one side of town, the "haves" are isolating themselves behind gated communities in big, empty homes. Across the tracks, the "have nots" are seeking shelter under highways, in tents, and on the streets. It's the age of digital connectivity, yet both groups feel more and more adrift and isolated from one another. There's got to be some way we can find each other.
"Because I come out of the real-estate development industry, I had this wild and crazy idea to develop an RV park on steroids," explains Alan Graham. "When we bought our first RV to lift one guy off the streets, we were clueless. As we just said yes to these little calls, the Lord equipped us to do what it is that we're doing, better and better and better. And out of that stemmed the Community First! Village."
Community Is Contagious
Considering the dividedness of our times, the response to Alan Graham's trailer park on steroids has been miraculous. Graham, an unabashed Catholic who sports a large crucifix hanging from his neck, has Christian church groups of every flavor AND secular progressive organizations flocking to his Community First! Village on the outskirts of Austin, Texas.
You'll meet Shorty, who lost his parents as a child and entered into a life of drug use and recklessness before he was a teenager. You'll meet the associate dean of the Business School at University of Texas. He's a husband and a father of three who has had a privileged life.
Perhaps the most impressive people are the ones that Graham calls "missionals." They range from young staff members to affluent empty nesters searching to belong somewhere. All of these people made their journeys to find community and a real home.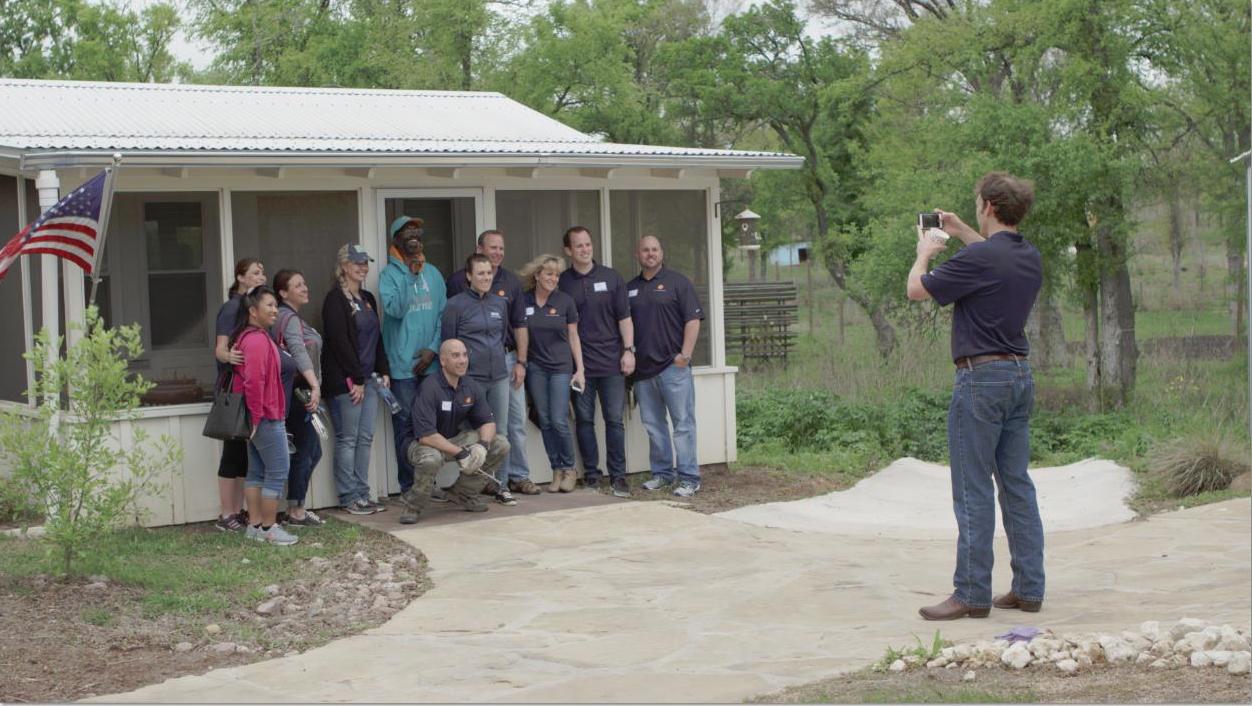 As filmmakers, we couldn't resist these people coming together from completely different walks of life and economic levels. We couldn't resist the miracle of their community because it is a witness to the whole human family.
Take Me Home will invite viewers to move into this neighborhood. We'll join an eclectic cast of characters living their stories through the seasons of life. In joy and heartbreak you will see a reflection of the noblest human qualities, our flaws, our tragedies, and our triumphs. With us, you will find beauty in the mess.
As folks across America follow these stories, we want them to look out their own windows, into their communities and wonder, "Why don't I have an experience of community that these characters have? How might I take the step to find more homefulness where I live?"
Graham says you can live in a mansion and still be homeless. That's because home is more than just a building and a place to rest your head. You can have a house, but not be "homeful." Home is where you belong. It is your place of relationships, stories, and meaning. It's where you find your community, your village. That's what our documentary is all about.
Take Me Home will be a 2-year, half-hour episode docuseries at the innovative 27-acre master planned community of tiny homes and RVs that are designed to connect us back to each other and back to this land.
We will chronicle the journey of formerly homeless men and women with regular families who are together and boldly moving into the neighborhood. Joining them on this journey are a courageous staff and plucky volunteers. On this new frontier, they discover what we all want when we look for home.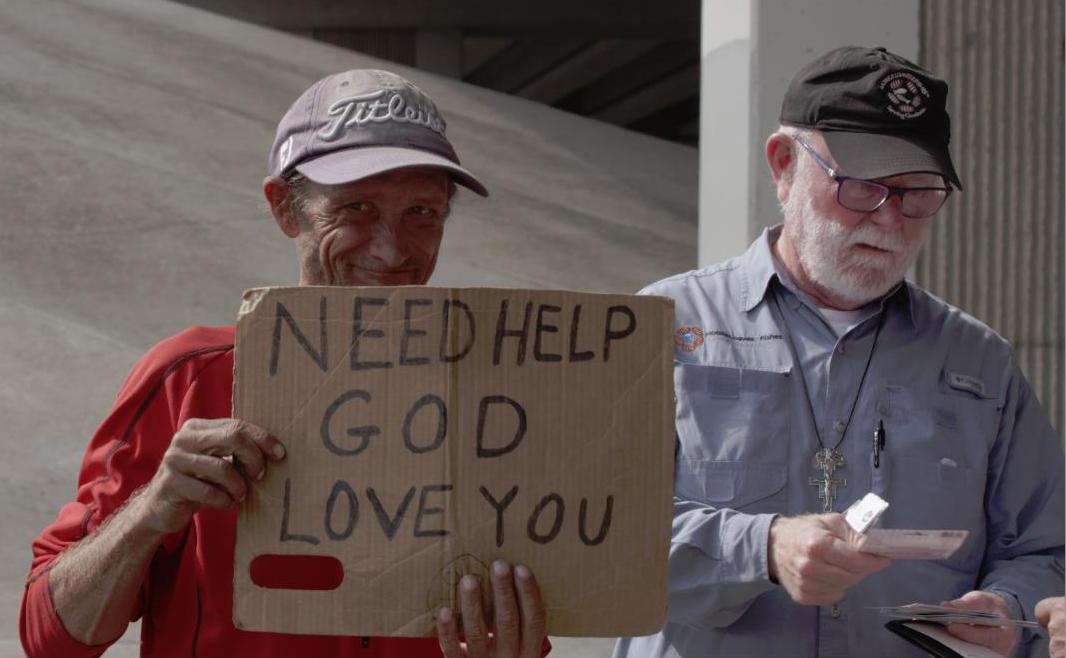 Graham's Hunger to Serve
Community First! Village Founder Alan Graham's story is about how our greatest weaknesses can become our greatest strengths. Early in his life, Graham was all about making big deals that made a lot of money. After a successful career in commercial real estate, he gave it up to feed the hungry in Austin. He's too humble to put it this way, but you might say this is sort of a modern Saint Francis story by way of Texas, USA.
With the help of a formerly homeless man, Graham created Mobile Loaves & Fishes in 1998. Since then, these volunteers have served more than 5 million meals with a side of hope, out of food trucks, to homeless men and women — some with children — living on the streets.
This isn't your grandfather's kind of food program. Graham and his friends did crazy things while out on their routine truck runs. They did "dumpster dives" to look for thrown-away goods as an experiential exercise to enter into the hidden lifestyle of those living on the streets. This evolved into organized Street Retreats, where a group would shed their money and creature comforts for several days and live on the streets putting themselves at the mercy of the homeless population downtown. It turned the tables and required the homeless to aid the volunteers with advice for how to survive on the streets without money and resources. The volunteers had to join the circuit and eat where they ate, find shelter where they found shelter, and be present to each others' needs.
That was just the beginning. Graham's vision went way beyond feeding the homeless — he wanted to give them a home.
A New and Healthy Frontier
Despite billions of dollars spent on social services, the homelessness epidemic is worsening. American cities continue to be racially and economically segregated.
"What we do is we connect," says Graham. "Human to human. Heart to heart by empowering the entire community to come here to this property and do nothing but love."
You often hear "Give them housing and a job," right? But according to Graham, the single greatest cause of homelessness isn't a lack of housing but a catastrophic loss of family. That's why this village isn't called "housing first" but "community first."
Homelessness isn't only about not having your own place to rest. It's also about loneliness and isolation. We've seen homes of wealthy people where their kitchens and dining tables have a thin layer of dust because they aren't being used. When wealthy people don't experience family or community, they can suffer a tremendous spiritual poverty. Why do some rich people commit suicide? That is a severe irony. As Graham likes to explain it, you can live in a mansion and still profoundly lack "homefulness."
Take it a step further. It's not just about you needing your community. It's about your village needing you too. The village is where you are known. It's where you find the strength that comes from being needed and needing others. It's your community calling for the best from you.
Out of this idea came the new frontier Community First! Village, the innovative 27-acre master-planned community that provides affordable, permanent housing and a supportive community for the disabled and the chronically homeless. It is 140 micro homes designed by some of the most gifted architects in the world. It has a park of over 100 RVs. This transformative residential program exists for residents to love and serve their neighbors who have been living on the streets. It also empowers the surrounding community into a lifestyle of service with the homeless.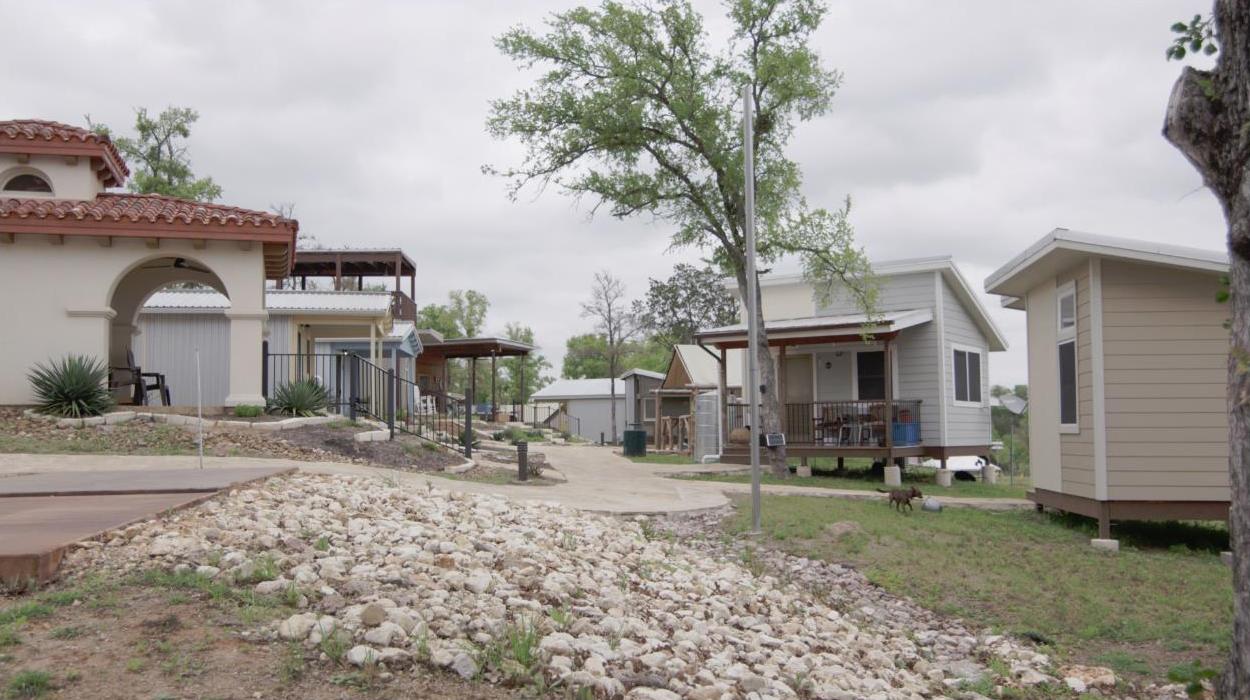 The whole project is holistically laid out. The porches are designed to help residents know their neighbors. There are a community kitchen and table, an outdoor movie theatre, carpentry and metalworking shops, micro enterprises, the community medical clinic, and even gardens with chickens and goats. So it's a vivid ecosystem teeming with life. Innovative and forward-thinking, it's a return to something timeless and ancient.
A Community Can Change the World
Mother Teresa famously observed that while the material suffering in Calcutta was deep, the spiritual poverty of the West is much deeper. When we look for the reasons of homicides, suicides, and even school shootings, it seems many people who inflicted such tragedies lacked homes and belonging to people who loved them. As noted above, Alan Graham and his friends learned that the single greatest cause of homelessness in this nation is a profound, catastrophic loss of family.
The promise of Community First! Village is that it models how we can return to the sense of home and family that each of us is looking for at the very core of our beings. In Take Me Home, you'll see the unvarnished truth of residents learning what "home" is. You'll see their fears turn into the discovery of a new life with a new extended family.
If we can shine a light on the transformation in Austin, maybe the spirit of it will spread. We hope Take Me Home will help you to discover your identity in the human family.
So far PBS has expressed interest in the series, but we're still in the fundraising stage and we are searching for strategic production partners who can assist in navigating the distribution landscape.
The docuseries is being accompanied by the Austin Institute's 2-year academic study on this groundbreaking relational approach to curing homelessness. Community First! Village is stunningly innovative and it's also a return to something radically essential. We believe this relational model can inspire new cultural norms and policies across the nation.
See more about the Community First! Village at MFL.org/community-first
See more about Sean's and David's documentary at www.TakeMeHome.us