In decades past, you could only see movies in theatres. Not until the rise of home theatres, in the late 1970s, with the introduction of the VHS machine, did rewatching a film in the comfort of your living room become a reality. DVDs and now Blu Rays allow us to watch and rewatch our favorite films. But, more recently, extended, director, and special editions have become more and more popular. There are several reasons for this, two of which are fine, maybe great, and the last of which, is a frustrating reality of the current Hollywood business mindset.
If we examine film as art, then of course we can envision various versions of the same piece, had the filmmakers made different decisions. Imagine the painter choosing pastels over vivids, or a sculptor using clay instead of marble. The outcomes will differ, even though the subject may remain the same. Likewise, our favorite movies have fully edited scenes dropped from the final cut, digital technology may advance to such a degree that updating effects seems reasonable, and sometimes writers will have two completely different, but viable, endings.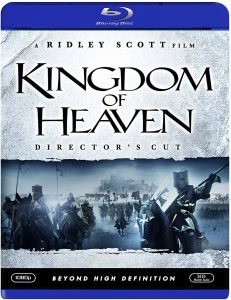 With time, these various versions have become more and more available, even sometimes used as selling points on Blu Rays. Take for example the new "Black and Chrome" edition of Mad Max: Fury Road. This is an identical cut of the final version of Fury Road, except entirely in high contrast black and white. George Miller fought the studio for months to get this version of the film into the hands of fans, who eagerly awaited this version of the film. Now, the Black and Chrome edition is prominently advertised on iTunes and the special edition Blu Ray.
Fury Road, however, is only the most recent of examples. Back in 2005, Ridley Scott finished Kingdom of Heaven, the crusades epic, and when the film hit theaters, it severely disappointed most critics and fans of Scott's work. Yet, when the director's cut hit DVD, something happened; the opinion of nearly all who saw both versions changed drastically. Here's an excerpt from a review by Adam Charles at Film School Rejects:
"Let's first make something as clear as absolutely possible — the Director's Cut of Kingdom of Heaven is the only version of this film that should exist. I'm not sure if needless film cutting at the hands of the studio of this magnitude has ever been done before, but the theatrical cut of Kingdom of Heaven is not only inferior, it's bad — whereas the original Director's Cut of the film is not only good, it may be amongst the top films Ridley Scott has ever made."
Now, I am not attempting to say special editions, remastered films, or extended cuts are always equal to or better in quality (see Batman Vs. Superman) but simply that they have become increasingly commonplace. Even just ten seconds can get us a list of significant and recognizable titles:
Lord of the Rings
Star Wars
Every Zach Snyder Film
Bladerunner
Aliens
Apocalypse Now
Hollywood has slowly become more open to releasing special or extended cuts, especially if they can make more revenue. My concern, therefore, is that studios will attempt to take advantage of the trend and release these versions not as a more polished piece of art or opportunity for filmmakers but as a sales gimmick, like 3D movies. Keep an eye out for studios pushing filmmakers to cut shorter versions of their movies, only to turn around and pressure a "special edition release". Just one more example of the difficult balance of business and art.