After ten years, Mel Gibson emerges from the shadows of Hollywood's fringe and back into the limelight with the release of his most recent directorial project, Hacksaw Ridge. In true Mel Gibson form, the film features an unwavering belief system amidst brutal violence.
Hacksaw Ridge depicts the true story of Desmond Doss (played by Andrew Garfield), a Seventh-Day Adventist from the mountains of Virginia, who is drafted to serve in WWII but adamantly refuses to carry a weapon or kill. This leads to abuse from his peers in basic training, and he narrowly avoids being court-martialed for his beliefs.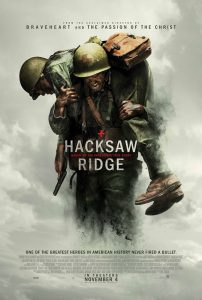 He is allowed to go to war unarmed, as a medic. His faith and courage are put to the test in Okinawa. After his fellow soldiers retreat, he alone remains behind to help the injured. In the face of great danger and suffering, he manages to rescue seventy-five wounded men without firing a shot, all the while whispering the prayer "Please, Lord, help me get one more." Later, he receives the Medal of Honor for "conspicuous gallantry and intrepidity in action."
"Desmond was operating on another realm," Gibson tells Christian Post in an interview. "In a theater or another situation where men go to war and conflict and most are reduced to the level of animals. He managed to maintain his higher self and his purpose and he was able to explore his virtue. He molded himself in that experience. It's a strange juxtaposition," Gibson continued. "He would say himself, it wasn't him doing it, something greater than him was doing it. He said he was praying the whole time."
Speaking of strange juxtapositions, the level of violence in a movie about a pacifist begs some attention. Never one to shy away from an epic, gory battle, "Gibson's robust skill as a conductor of large-scale conflict — which goes back to Braveheart — is as sharp as ever," says the Hollywood Reporter. While the theme of non-violence and faith are in contrast to these gory action scenes, the Hollywood Reporter points out, "the extremely graphic nature of the violence onscreen makes his steadfast nonviolence all the more affecting."
The New Yorker comments on this dichotomy as well:
"Hacksaw Ridge is the strangest release of the year: an implacably violent film about a man who wants no part of violence at all. Gibson asks us to observe the spectacle of spilled viscera, limbs in flight, rats feasting on mortal flesh… so that we may better comprehend the faith that upholds Doss…" In spite of the reporter's skepticism about Gibson's "personal furies," he concludes that the "result treads close to madness and majesty alike."
Hacksaw Ridge was enthusiastically received at its Venice Film Festival premiere, and rated 86% on Rotten Tomatoes, with an impressive 96% audience score. Christianity Today calls it "artistically masterful and thematically timely." The takeaway? Definitely a well-made, powerful, faith-filled movie worth watching, but be prepared for some cringe-worthy violence.