The rock band For King & Country has been called Australia's answer to Coldplay. Their debut film, Priceless, opened this weekend in theaters and is a must-see. One of the best Christian films I've ever seen, Priceless had me engaged the whole time and moved to tears by the end.
This drama/thriller stars Joel Smallbone (For King & Country) as James, a handsome but desperate man whose wife has passed away. Unable to keep a job, his daughter is removed from his care and placed in the custody of his mother. When an opportunity comes along for some "easy" cash, he takes it. He agrees to drive a commercial truck cross-country and deliver its contents without asking questions.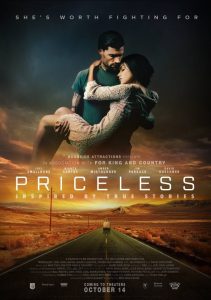 After nearly falling asleep at the wheel and driving off the road, he discovers that the cargo he's transporting is actually two beautiful, young Mexican girls. Their story is that their father owed someone a lot of money and so the girls were sent to the US to work in hospitality to pay off the debt. It is only after the girls are delivered that James realizes they are intended for sex-slavery. He decides to do whatever it takes to try to rescue them even if it means putting his own life on the line.
Based on true stories, this movie displays a beautiful picture of true love and faith without being cheesy in any way. Surprisingly, the voice of truth comes in the form of James's ally, Dale, who is played by David Koechner (Anchorman, The Goldbergs). I thought Koechner, a comedian with a very recognizable face, was an interesting choice for such a serious, spiritual role, but he pulled it off successfully.
In fact, the entire cast did a great job of creating believable, sympathetic characters. Joel Smallbone proved he's more than a singer with his effective portrayal. Bianca Santos and Amber Midthunder were winning and heartbreaking as the unknowing victims. Jim Parrack (True Blood) was threatening and manipulative as the head of the prostitution ring.
And though the cast was strong, what I appreciated even more was the message. The primary theme is that women are priceless and should be treated that way. On For King & Country's bio, Joel says, "Part of the DNA of for KING & COUNTRY is this idea of respect and honor in relationships and women being priceless. What we've both found in our beliefs as men is that people are made equal. No one is a commodity and everyone deserves to be loved and loved well."
At the same time, the film sheds light on the tragic reality of the sex-trafficking industry. It shows how easy it is for girls to get sucked into that world unknowingly, against their will, and find themselves trapped, unable to see a way out. But the story doesn't end there. The film shows there is hope. Hope for rescue, recovery and redemption, and that no matter what a woman has been through, she can and should be cherished and valued as the priceless daughter she is. For all women are someone's daughter, biologically and spiritually.
Go see this movie. Take your daughters. Let's join For King & Country and change the conversation on a woman's identity and value.