Disneyland is about to get its Geek on with a Marvel Makeover.  Free from Walt Disney World's restraints on super heroes that also populate nearby Universal, the West coast has become home to an ad hoc Marvel base.  Disney's California Adventure is getting a permanent addition from the Marvel Universe in a Guardians of the Galaxy experience.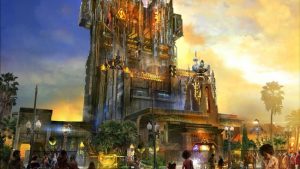 Fans of "Tower of Terror" may be saddened to know the original attraction will be re-purposed into Guardians of the Galaxy-Mission Breakout!  The attraction will wind guests through the museum of the Collector where he is keeping latest acquisitions, the Guardians, as his prisoners.  Enter Rocket Racoon, your guide through the gantry lift (cough, elevator) that will jettison you into a jailbreak drop ride.
According to Disney, this will be the first in a new land of Marvel Super Heroes, but they're being hush hush with any further details.  I'm hoping for the Captain America experience.
Epcot on the other hand is rife with rumors of new attractions that would refresh future world.  Some worry that EPCOT may be losing it's "edutainment" focus that Disney so desired, but let's face it, the 45-minute "Universe of Energy" isn't "edutaining" anyone these days.
Details are still fuzzy for the Disney World attraction, but a thrill roller coaster is slated, with the plucky Guardians heroes as the ride theme.