Casting Crowns has dominated Billboard's Christian charts for the last 10 years and their latest release The Very Next Thing is no exception. This is their sixth album to debut in the Top 10.
The Atlanta-based band is made up of Mark Hall, Juan and Melodee DeVevo, Megan Garrett, Brian Scoggin, Josh Mix and Chris Huffman, all of whom work in worship and youth ministries at various churches. Lead singer and writer, Mark Hall, says the inspiration for their music comes from themes that arise in his youth ministry.
After their previous album Thrive was released, he didn't know if he would have anything more to say. "I felt like, 'What can you possibly say after Thrive?'" Hall tells Billboard in an interview. "There were times I thought I guess I'll probably just go to heaven after this record. I don't know what else to tell people."
Eventually, he identified the human tendency to look to the future with desires of grandeur rather than focusing on what God has for them right now. He shares with Christian Post:
I hear my teenagers say that all the time, 'I want to do big stuff.' What I tell them is, 'Big stuff for God is probably the person sitting next to you today at school. It's probably the person that's tugging at your heart everyday as you walked by because nobody is talking to them.' And it's probably this call every time you hear about it, it tugs at you a little bit and you feel like you should do something. Big things for God isn't a year from now, it's right now. You weren't put here to wait, you were put here to know God and make Him known right where you are, right in your circumstance.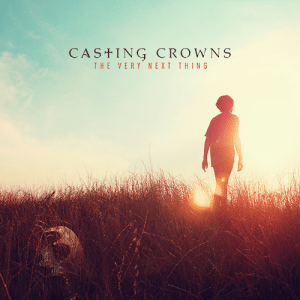 The Very Next Thing is their first album to not include any orchestration. "I just wasn't feeling it this time," he tells Billboard, "…and I don't miss it."  The only string instrument is the violin, played by Melodee DeVevo. Listen to their hit single, "One Step Away":
Shortly after the release of Thrive, Mark Hall was diagnosed with cancer on his kidney. He was experienced at encouraging those who were suffering through illness but this was the first time he had been in this position. It was a hard adjustment. He shares with Christian Post that he doesn't "hurt well in front of people." He continues:
I'm not really good at getting comforted, so I really had to walk through letting the church love me and pray for me and know my business, and it was so good for me. Now, when I sing even old songs of ours, when I sing 'Praise You Through The Storm' — I always knew what it was about because I wrote it for friends going through cancer, but now having been in it, it's a whole new world.
After a 5-month struggle, he is cancer-free. He didn't want their next album to be about cancer, but he admits that his experience did influence his writing. He says the song "Oh my Soul" stemmed from Psalm 42:11 and those downcast moments where he needed to speak truth to himself.
Casting Crowns just began The Very Next Thing tour, accompanied by performers Matt Maher and Hannah Kerr.