I never felt drawn to Ariana Grande.
Sure, I knew who she was – one of those young up 'n comer celebrity names you can't not hear these days. And I guess I'd heard her on the radio, but not with interest. I'd never actively sought to listen to her.
She seemed too young for me (though she's only three years younger), maybe because my generation missed the lasting adolescent impact of her rise, as the Nickelodeon series that first made her über famous – Victorious (2010–2013) and Sam & Cat (2013–2014) – came out when I already was in college.
So I wasn't overly keen to review her music video for "No Tears Left to Cry." I figured it was just a shoo-in, like, Oow! Let's make sure Ariana Grande is one of the best video nominees – she's so hot right now. I prepared for a cheesy, shallow, super basic song and visual concept that would leave me feeling more air-headed than before I'd watched it.
Fast-forward to having listened to the song 25 plus times: IT IS MY ANTHEM.
It didn't take 25 listens; it only took about four for me to fall in love with it. Now, I just. Can't. Stop. Listening.
Before I dive into the video –  which is a fine little fantastical digital voyage – I want to be straight: It's the song I really love, way more than the video.
True to its lyrics: "I'm pickin' it up, pickin' it up/Lovin', I'm livin', so we turnin' up/Yeah, we turnin' it up TURN IT UP," this is a turn it up, pick me up, I'm comin' up, feisty, frisky, fierce and fly anthem that gets me feeling like nobody can touch me now. So shut your mouth. I don't necessarily get these lines – "Can't stop now, can't stop so shut your mouth" – but, as Ariana says in the song, "I like 'em, I like 'em … I LIKE 'EM."
Somehow this song is everything I want to say (and didn't even know I needed to say), BELTED OUT as powerfully as it needs said. No one can mess with me because "Right now, I'm in a state of mind/I wanna be in, like, all the time/Ain't got no tears left to cry."
As for the video, while graphically and stylistically impressive, it's more along the lines of what I stereotypically expected from Ariana Grande. It's trendy, but not groundbreaking.
The four-minute video is big-time futuristic fairytale vibes, something like Beauty and the Beast 2050 mood with Ariana as the Belle of the future.
The honey-eyed singer is sultry as can be as she walks on walls and hangs off never-ending fire escapes that float in the midst of a creepy, glittery, infinitely-dimensional city of skyscrapers.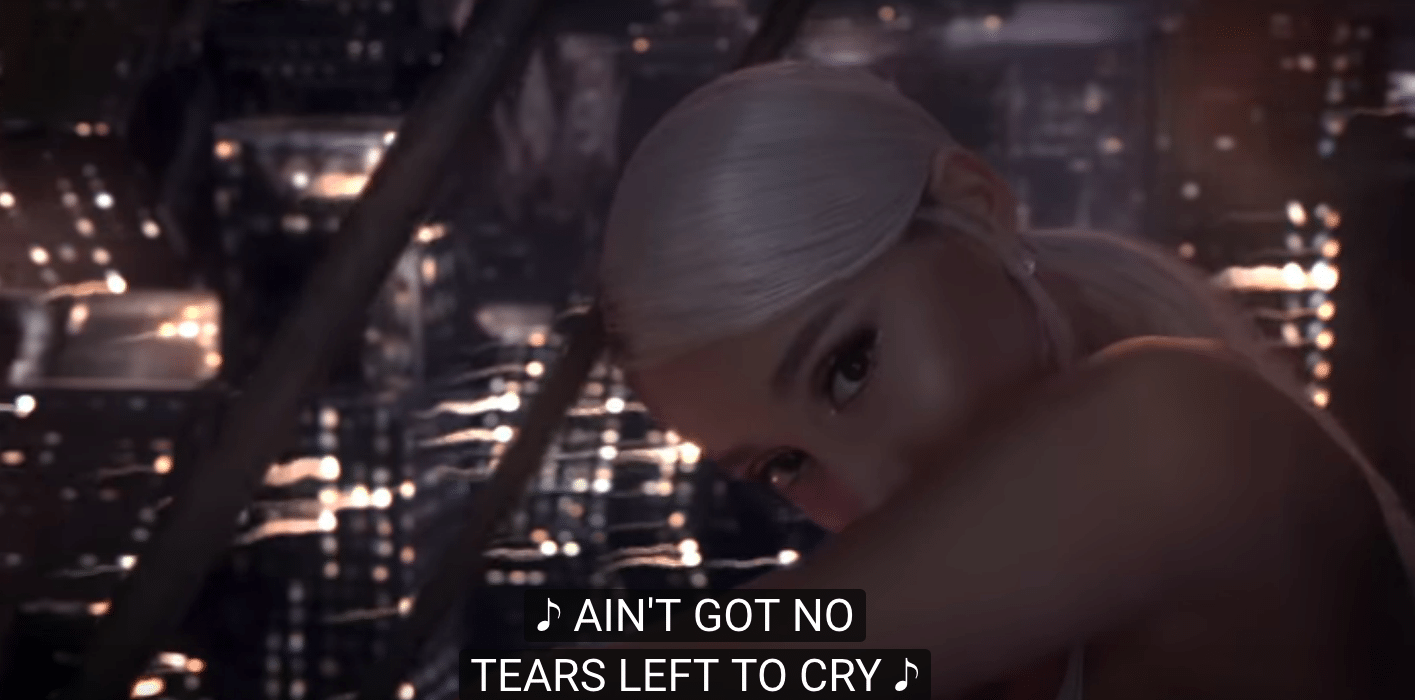 Mostly, her style is on point – the bright silver-white hair pulled in a high tight braid or loose and flowing in mystical contrast to her warm, olive skin; the deep green gown she wears in the opening scene …
But her white polka dot bag of a dress she wears on the roof with the umbrella two minutes into the video? No. She is a tiny human (petite, and also standing at five foot flat), and that dress billows her into an unflattering puff ball. The umbrella only adds to that outfit's cheesiness.
The video goes full on kaleidoscopic as it nears the three minute mark. Myriad mirror images of Ariana's shimmering, airbrushed face fill the screen before all becomes an explosion of close-up cut outs of her licking her impossibly glossy, luscious lips …
The video then tries to get deep – I think – but fails. Ariana sits before a slew of makeup mirrors, all filled with her singing face. She then takes off her own face, which is, of course, a mask, and lays it next to several other identical masks of her face. But even without features, her blank slate of a face, as well as all the singing masks, are so flawlessly airbrushed and absurdly barbie doll-esque that whatever message about external looks just being a mask – or whatever point Ariana might be trying to make – is lost.
So sure, watch the video. It's worth it for the special effects and futuristic dark magic sort of vibe. But this one doesn't even come close to having my vote for best music video of 2018. I'm still think Drake should have won for "God's Plan."
However, while I probably won't watch the "No Tears Left to Cry" video again, I'll still be listening to, and singing it – LOUDLY – for awhile yet.
Cause the song puts me in a state of mind, I wanna be in like … all the time.
And now for what SCENES Star DJ Bay of SCENES Media's "Best Music Video Ever" has to say about "No Tears Left to Cry" …