You know what's refreshing? To witness a female rapper spitting game (yes, I said "spitting game") in a way that changes the game.
Also to see a woman rocking dreadlocks and a bona fide grill sitting cross-legged in a giant throne, and the effect is you wishing you could only be so sleekly regal.
My friend Jonelle sent me the link to Sa-Roc's video "Forever" (some explicit language, released in February of this year and coming up on a million views), a week or so ago. Since then, I've watched the five-minute video more than 10 times. This single song/video was all it took for Sa-Roc to reach Queen status in my book. But she doesn't make me feel like a subject: She wants to elevate each of us to our own Queen potential. 
This is evident in her video by the array of women – of varying ages and sizes and styles, all with darker skin tones and dare-you-to-try-me confidence – she sits on the same throne [see cover photo] following her own debut upon it.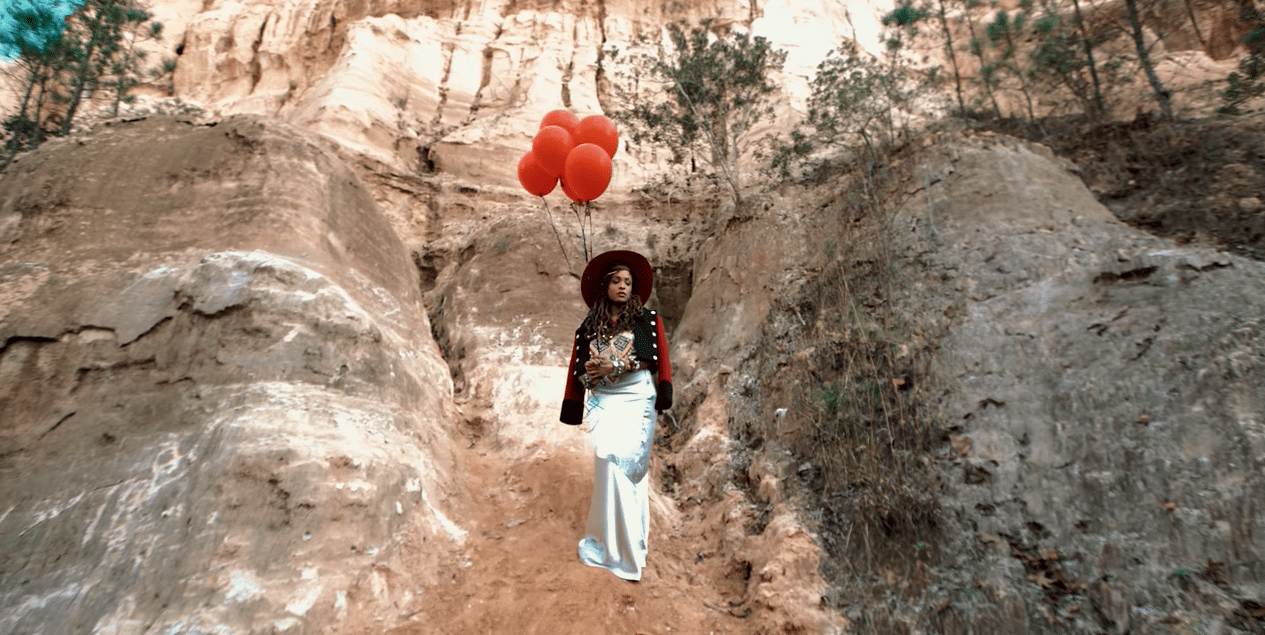 But, question: Who is Sa-Roc? I'd never heard of her before watching this video. Her website tagline is: "Sa-Roc The MC! – Goddess, MC, Music, Clothing, and Community," which I think pretty much says it all. She's not new to the music game, either – according to her website, the now 36-year-old appeared on the hip-hop scene in 2008 and has a whopping 13 albums under her belt. I specifically love how her website includes "community" in its description because this video creates space to empower a community of women with whom I'd surely like to commune.
The strongly feminine, communal feel of both her website and her Forever video is crucial to my newfound love for her. The connection between the women in the video feels sacred, supportive, mystical, and enticing … exactly the vibe you and your girls give off, right? But seriously, that sister tribe vibe is, for me, goals … and I think all of us girls could use a dose of the girl power and fellow female love Sa-Roc passionately promotes.
She's also promoting self-love, although she admits it's not always a target she's hit: "I was 14 years old forcing pills down my throat so my baby fat diminished/Still got the scars from cutting my wrists when I thought that life was finished."
But following this explicit honesty comes hard-won hope: "Now they remind me what my lows look like now I know the sky's the limit/Ok. Never claimed to be perfect/That's an impossible dream/I'm just saying that I'm worth it/That's the responsible thing."
Wow! I can be imperfect and still be worth it … revolutionary! And it's responsible (rather than conceited or delusional!) of me to acknowledge that I AM WORTH IT. But wait, there's more. It's also not outside voices who will give me the acceptance I seek.
"Spent half my life trying find my light from outside/sources, while the only/ voice that mattered came from me."
This is a song about owning your flaws, finding your power, and sharing in the exaltation of self love with your crew. Sa-Roc is one of the most earnest, rapid fire rappers I have ever heard, and the intensity of her style and ruggedness of her tone alone compels me.
But when the speed slows down for the chorus, I know I'm listening to a forever message from an artist who now officially has changed my perspective for the better:
"You betta shine on em baby, you a star. You betta/Be exactly who you are-Forever/Cuz they gon try and change your heart. Don't let up/Cuz You so damn fine, just the way you are."
You heard the woman. Go on and shine on 'em … now and forever.