Geek culture has become big business.
Let me preface this geek rant by saying I'm not cheap, I'm thrifty.  I'm no super coupon diva, but I try to find deals when I can.  I wait for my Barnes and Noble coupon to buy that comic for less, but I also know that the Noble Collection Hobbit merchandise I want ain't never goin' on sale so I bit my lip and shelled out the cash for that Bag End key holder.  These are small things that we geeks just accept.  What I'm having a harder time accepting is the rising cost of items and experiences now that geek has gone main stream.
Convention prices are rising steadily.  A single day ticket to a Saturday at Star Wars Celebration Orlando is $75.  What about the mess of San Diego Comic Con?  You have to buy tickets and a badge and they sell out within minutes.  You can purchase them for dealers though-a Saturday ticket sells on Vivid Seats for $509.  Save money at Ticket Liquidator for only $495!  Finding actual ticket prices for Comic Con is a closely guarded secret.  I tried several websites beside scalpers and found only lots of rules about the five things you have to do just to get in a virtual waiting room to buy the tickets.  Really?
Certain experiences can't happen anywhere else but the convention floor, and companies know that.  I almost choked when I saw the list price for a Felicity Jones' autograph at Star Wars Celebration.  I know there are some wealthy geeks out there, but dropping over $200 on a single autograph is a lot to swallow.  I mean, that's groceries for two weeks—can I get an amen?
Now, certain A-list celebrities only come out on rare occasions, and therein lies the exorbitant fee.  I get it.  But the problem is that entertainment companies are so desperate to rake in as much cash as possible, we're starting to lose the experience.   I had the misfortune to purchase an autograph for David Tennant, my favorite Doctor, last year.  I was all set to spend a moment chatting with the Doctor Who alumni and favorite Shakespearean.  What I was treated to after dropping $100 was an assembly line where I could barely plop my book-to-be-signed down on the table fast enough to please the barking "con" artists.  They pushed my book in front of Mr. Tennant and I scarce had time for a quick compliment on his stage work.
This love and shove atmosphere ruined my experience and I vowed never to waste money on that con again.  This is after my friends purchased a photo op where we were hurriedly ushered behind a curtain where we had just enough time to stop and smile before being whisked out to be replaced by the next suckers.  I'm not even sure David Tennant blinked it all happened so fast.  And my friend Anna is still miffed that she had to pose so quickly, it looks like an awkward geek family photo.    See what I mean?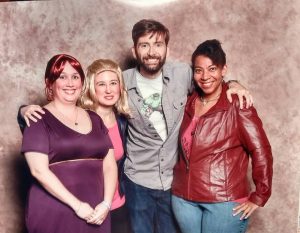 Ever since geek stuff has become cool, businesses have lined up to take advantage of merchandising both products and fan experiences.  Want to pay an extra $50?  Great, you can sit in on a panel featuring your favorites from the cast of ________.  Hand over a couple hundred bucks and you can get a gold pass to get in the front of the lines.  Convention going is starting to feel like a spectacle of consumerism rather than a celebration of fandom.
Right after I started composing this blog, I received an email for a special event at the local Shakespeare theater.  "A Night with Michael Dorn."  For a cool $250 you can be part of a VIP reception for the Star Trek actor before his performance in Antony and Cleopatra.  I must admit, they have $30 dollar tickets too for those that can't shell out the big bucks.  This event if any is pretty worth it at the average level, but these kind of deals are hard to come by.
Rogue One is coming to DVD and digital streaming very soon.  The catch—it's the theatrical cut minus any bonus material.  That's coming later so you have to buy another version of the film because of course, you geeks can't wait to get your fix of the latest galactic saga.  That's a cheap shot worthy of Greedo.  Sometimes I really miss the days of geek obscurity.