Theatre 71's ensemble presentation of "Raison d'Etre: an Evening of Pirandello," shows off the complexity of the Italian Nobel laureate's work to great effect. Comedy and tragedy intertwine with the absurd in Jennifer Jewell's clever combination of three plays: Pirandello's classic "Six Characters in Search of an Author," and two lesser-known One-Acts, "Chee Chee" and "The Man with the Flower in his Mouth." It's one of this theater season's pleasant surprises. Pirandello was a maverick who pushed the boundaries of theater with his experimental and sometimes bleak renderings of the human condition and his notion of "theater within the theater." Six Characters highlights questions of truth and reality in their many mediated representations, including hitherto ignored questions such as who controls a narrative and who belongs in a particular story and who is being ex/included. Ultimately truth comes to be seen as slippery, predicated on questions of power and control.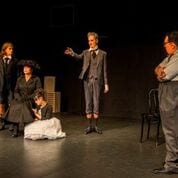 The six characters of Pirandello's eponymous title are just that—characters—who traverse the stage looking for an author—someone who can put them to good use! They are "merely" characters but as such they will outlive both the actors who play them and the audience watching them. Today, the questions Pirandello asked seem par for the course to audiences used to Beckett, Ionesco and Sartre but they were revolutionary in the 1920's. Jewell and director Patrick Mulryan's adaptation underlines the fact that these issues are still pertinent. One need only look at recent political events to see that many of these same questions of sexual and class exploitation remain. And that existential dilemmas such as how to negotiate our mortality are part of the human condition. Here the play begins when the 6 itinerant characters brazenly interrupt a rehearsal of "Chee Chee." The director, unfazed, invites them in to tell their tale of woe.
The acting is superb throughout. Standouts include producer Jennifer Jewell's poignant performance as The Man with the Flower in his Mouth—she laces every sentence with anguish and reverence about life and our mortal coil. Brian Linden is pitch perfect as the unwitting Father who unwittingly partakes in his own family's destruction. Mickey Abate as Chee Chee is devilish and plays his trickster's role with vaudevillian relish. The stage and the performance as a whole are well anchored by Nora Armani as Mother—she's a remarkable stage presence who holds the audience's rapt attention as she emotionally recounts or alludes to her harrowing experiences. Even young Carleigh Chirico (Girl) and Alexander Might (Boy) as Mother's two children grown mute from their painful family trauma are riveting, though they have no spoken lines. And David Klein as Son and Lucie Allouche as Step–Daughter are fine young actors to watch.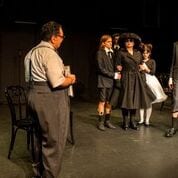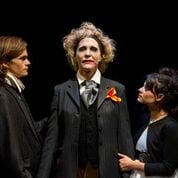 By all accounts such a theatrical merging of plays shouldn't work quite as well as it does here: "Chee Chee" is all camp, a comedy of misunderstandings, while "The Man with A Flower in his Mouth" is tense, dramatic existential soul-baring. While Mulryan's talented direction brings the best out of his cast, the transitions between the three plays could be tauter and the mix of genres and stories can be a bit jarring. In the end it all works out nicely until the play's dramatic final scene. "Raison d'Etre" is a bold venture that carries you away into a world of sorrow and human questioning. It will also leave a smile on your face. Pirandello can be a bit trying for those who like realistic, plot-driven theater. To Mulryan and his cast's credit, this sometimes heavy, sometimes light-hearted presentation is one of the most enjoyable and accessible productions of Pirandello in recent times.