My Top 5 Kickstarter Indie Comics Picks
I love indie comics. I love to see people's passion projects. And I love entrepreneurship. Which is why I am a big fan of Kickstarter. Not only have I used this crowd-funding platform to finance and launch my first comic book (//www.kickstarter.com/projects/1119064534/the-silence-1?ref=user_menu), but you can discover a lot of amazing, unknown talent that offer original content. Kickstarter is a great place to find new comics for those who are tired of the same old superhero stories. Below is a list of my top 5 current Kickstarter projects. Be sure to check them out soon as many will be ending their campaigns in the next days and weeks. Enjoy!
_____________
1.Salvagers: The Wreck Raiders Part 2
Written by Bob Salley and illustrated by Chris Gevenois with additional art by Adelso Corona, Tyler Kirkham, and Eli Hix.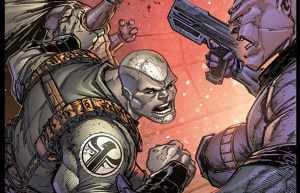 "After finding the recently salvaged battleship empty of all munitions, the KLANDARIAN PIRATES are hot on the trail of Captain Roenick and his crew of wreckers. They will stop at nothing to finish their task and build their supply of weapons in order to wreak havoc on the galaxy. Bill and Brigby are meeting with an old friend to move some critical cargo passed federation customs……while Ty'r is restricted to the Harrier IV salvage ship. We meet a new character and we see a little more into the deadly security firm, BLACKBANE! Join us for Part 2 of The Wreck Raiders… where things will heat up and the showdown between the pirates and Ty'r begins…this you don't want to miss!"
Campaign ends Sept 27, 2016.
//www.kickstarter.com/projects/535592388/salvagers-the-wreck-raiders-part-2?ref=category_popular
2. Scurry Book 1: Doomed Colony-A Post-Apocalyptic Mouse Tale
Created, written, and illustrated by Mac Smith.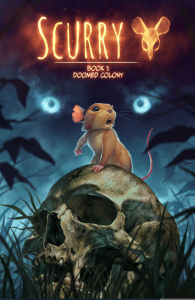 "A colony of mice struggle to survive a long, strange winter. The humans are long gone, the sun is rarely seen, and cold rain befouls the land. The rodents, long dependent on humans for food, stubbornly cling to their old ways, scavenging the nearby abandoned houses for scraps. Yet increasingly, the mice return empty-handed, or not at all. When food becomes scarce and many mice fall ill, desperation and dissent creep into the colony. While the nest leaders argue about what to do next, the scavengers are forced to search farther from home for anything that will help the colony survive another day. With the colony at a breaking point, rumors of a wrecked truck filled with food give them hope, but it lies far beyond the forest. The colony's best scouts embark on a dangerous journey to save the colony, but first they must get past a gang of cats, led by the vicious Titan, who relentlessly stalk them whenever they go outside.These feline predators are a constant threat, but beyond the lawns and fences lurk far worse things than stray cats. There are greater dangers out there that no mere mouse can fully understand, but two mice must overcome them if they have any hope of surviving and saving the colony."
Campaign ends Oct 5, 2016.
//www.kickstarter.com/projects/macsmith/scurry-book-1-doomed-colony-a-post-apocalyptic-mou?ref=user_menu


3. Deer Editor: Hack
Written by Ryan K Lindsay, illustrated by Sami Kivela, lettered by Nic J Shaw, and edited by Dan Hill.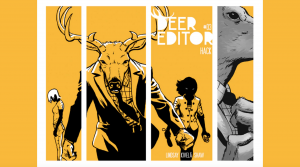 "DEER EDITOR: HACK is a 48 tablet page B+W mature readers comic from Sami Kivelä and Ryan K Lindsay about Bucky, the editor of the crime beat at 'The Truth' who also happens to be a deer. Bucky returns to Sheltered Cove to settle a score with an old nemesis, and then sets out on a rescue mission road trip which devolves into something else very quickly. This issue closes an overall 3 issue arc of Deer Editor, and we wrap up some threads from the debut one-shot and the FEARLESS issue we Kickstarted in April. Bucky has survived but finds himself displaced and with a new story before him, the elusive one he's missed all along – the Mayor's daughter, Rose."
Campaign ends Sept 29, 2016.
//www.kickstarter.com/projects/rkl/deer-editor-hack

4. Monsters
Created and produced by Francesca Da Sacco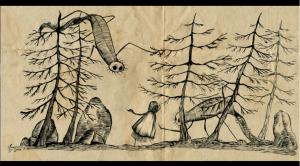 "Monsters is a collections of stories about monsters, the real ones we can bump into on the streets, and we often cannot even recognize. Those monsters who steal children and make fun of us, devour our certainties and take advantage of our weaknesses, and then leave what's left of us on a street corner. This book is not a guide, but I like to believe that, once read, it will make you more aware of the slippery reality that surrounds us."
Campaign ends Sept 26, 2016
//www.kickstarter.com/projects/260105767/monsters-printed-edition-italian-english?ref=hero_thanks
5. Video Games for Good
Collaborative work of over 15 creators, writers, and artists headed by Claire Hubbard.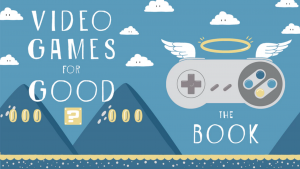 "Video Games For Good is a multi-artist collaboration that focusses on the positive outcomes of video games be they strengthened family bonds, stress relief and escapism, new friendships or simple nostalgia. The project also aims to tackle negative stereotypes that video games are only enjoyed by certain types of people or that the hobby only has detrimental effects.
I invited artists to submit artwork that answers the question: "How have video games positively impacted your life or the lives of others?" The results were a joy to see, and I'm so proud to gather all these precious memories, funny stories and beautiful illustrations into one handy collection!
The culmination of the VGFG project (and reason for this Kickstarter) will be a 36 page full colour A5 paperback book that includes incredible  digital and traditional paintings, illustrations and comics all dripping with pure gaming joy! Scenes from a variety of classic retro favourites are illustrated in the book such as Micro Machines, Earthbound and Doom. Long-running game series including Animal Crossing, The Legend of Zelda and Pokemon also feature, as their impact in the artists' lives is revealed.'
Campaign ends Sept 26, 2016.
//www.kickstarter.com/projects/787626861/video-games-for-good?ref=category_popular