Once again, the magical atmosphere of the Pacific Northwest has given rise to stunning new music. This alternative rock band, with a twist of Brit-pop, will get your heart pumping and your mind happy. Aptly, the band is called: The Hugs.
The Portland trio has a youthful energy that will make you want to dance with them, all the while knowing they are empathetic to whatever level of sorrow you'd like to delve into. The band has opened for The Dandy Warhols, The Kooks and headlined a few shows of their own… and great news: they are on tour now.
Even better news: we have an exclusive premiere of one of their new songs here, about the way that our tenacious hearts still love even into the twilight of a broken relationship… prepare to be moved with true lyrics like "She's running away faster than I can chase her, every single day I try to replace her":
"Fool" was recorded in The Dandy Warhols' studio in Portland OR & mixed by Sonny Diperri (Portugal. The Man, Animal Collective, The Drums, & STRFKR).
Hugs' vocalist/bassist Kauri Voss tells us at SCENES Media:
"2019 is full of exciting stuff for us- we spent the better part of last year making this record and have been chomping at the bit to release it.  We've had a blast putting it all together and can't wait to hit the road to promote it.  We're also really excited about the hometown shows we're planning- we're working with a lot of amazing artists who know how underserved the all-ages community is here in Portland."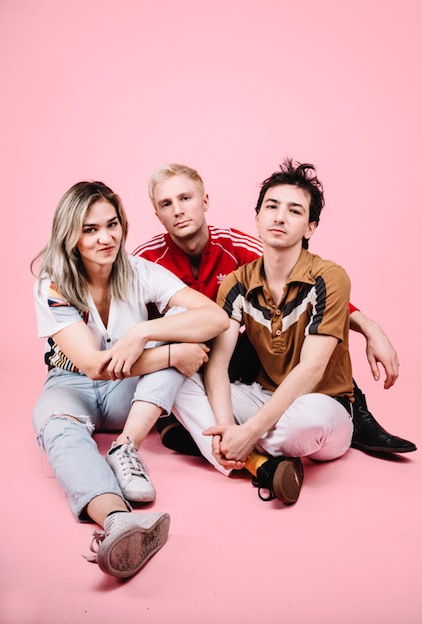 Hugs Tour Dates:
1/19 @ Doug Fir w/ The Yawpers (Portland)
2/1 @ Bridgetown DIY (LA)
2/2 @ Back Bar (San Jose)
2/8 @ Dante's w/ Keuning (Portland)
2/23 @ The Bartlett (Spokane)
3/8 + 3/9 Tacoma, WA + Seattle, WA (venues TBA)
3/20 – 3/23 Tour to LA, Oakland, Southern Oregon
(Or treefort music festival)
4/5 @ Doug Fir – Album release party w/Kulululu + Lavender Flu