I want to tell the whole world about Stromae. To give an Australianism I recently learned a go: I want the whole world to get keen on Stromae. Much to my delight, much of the world already is.
Stage name: Stromae; actual name: Paul Van Haver. This electric specimen of a human being is a 33-year-old Belgian singer/songwriter/composer born to a Belgian mother and Rwandan father. He's arrestingly beautiful, strikingly exotic, and utterly infectious: That irresistible collision of giving no cares what anyone thinks while just so happening to be exquisitely talented and enticingly expressive.
Also, he sings all his songs in French.
And yes, you will be swooned to death.
During a must-watch live segment on Seattle's KEXP in 2015,  the radio host – nigh overcome by genuine awe just to be in Stromae's larger-than-life, simultaneously hypnotic and jolting presence – says to the singer, "You're trying to do something that hasn't happened in a really long time, and I don't think it's ever happened in French: To get a number one record in the United States. And you could do it because you've got the package."
Stromae responds to the radio host: "I'm sure American people can feel the emotion, the feeling, the sincere feeling. And if I tried to just imitate an American singer, they will directly feel it. It's more interesting to sing in your own language, which is more sincere, I guess."
Beloved for his Youtube series Leçons de Stromae – which the sound engineering artist started in 2009 to show people how he composed songs – over the next few years or so, Stromae hit it HUGE in Europe and then worldwide with megahits (that you should watch ASAP) like "Papaoutai" (546 million views) …
"Formidable" (201 million views) …
"Alors on danse" (98 million views) …
"Ave Cesaria" (a tribute to Stromae's inspiration, Cesária Évora – 19.5 million views)…
and the "Stromae Takes America/San Francisco" version of "Ave Cesaria," which opens with Lorde saying, "I'm a really big fan of that guy called Stromae. I just saw his show, and it was like the best show I've ever seen." As well as Madonna chiming in on Stromae: "We've talked about working together."
On April 27, Stromae released his first new music in five years: "Défiler," now at almost 5.5 million views on Youtube:
The French word "dèfiler" translates to the English "marching." Appropriately, Stromae's epic new nine minute composition (it's basically three songs in one) debuted as the soundtrack for a choreographed live fashion show held at the Paris department store, Le Bon Marché.
Stromae said in an April article in Vogue that "the song is about walking in the original sense and figuratively. It's about beauty and our modern conception of it. Actually, I'm speaking about life in general."
 During the fashion show, "Défiler" reverberates all around as a myriad of beautiful, wide-eyed, blank-faced models march down the runway to reveal Capsule No. 5 – the cutesy, sporty, velvety, Japanese-esque fresh collection of Mosaert – the unisex Belgian fashion line and creative label led by Stromae, his wife – fashion designer Coralie Barbier, and his brother – Luc Junior Tam.
So Stromae not only is changing the global game in music, but also in fashion, creating and collaborating with the love of his life to do so. "Défiler" is a delicious convergence of music and fashion, both cutting-edge enough to cut you.
On a personal style note, the video gives unquestionable confirmation of a trend I've been eagerly awaiting to blow up: Super high, borderline unicorn-horn buns. Mark my words – things are about to get magical. Stromae and Coralie know: many of the models in "Défiler," male and female, march toward the trajectory of their pointed forehead bun.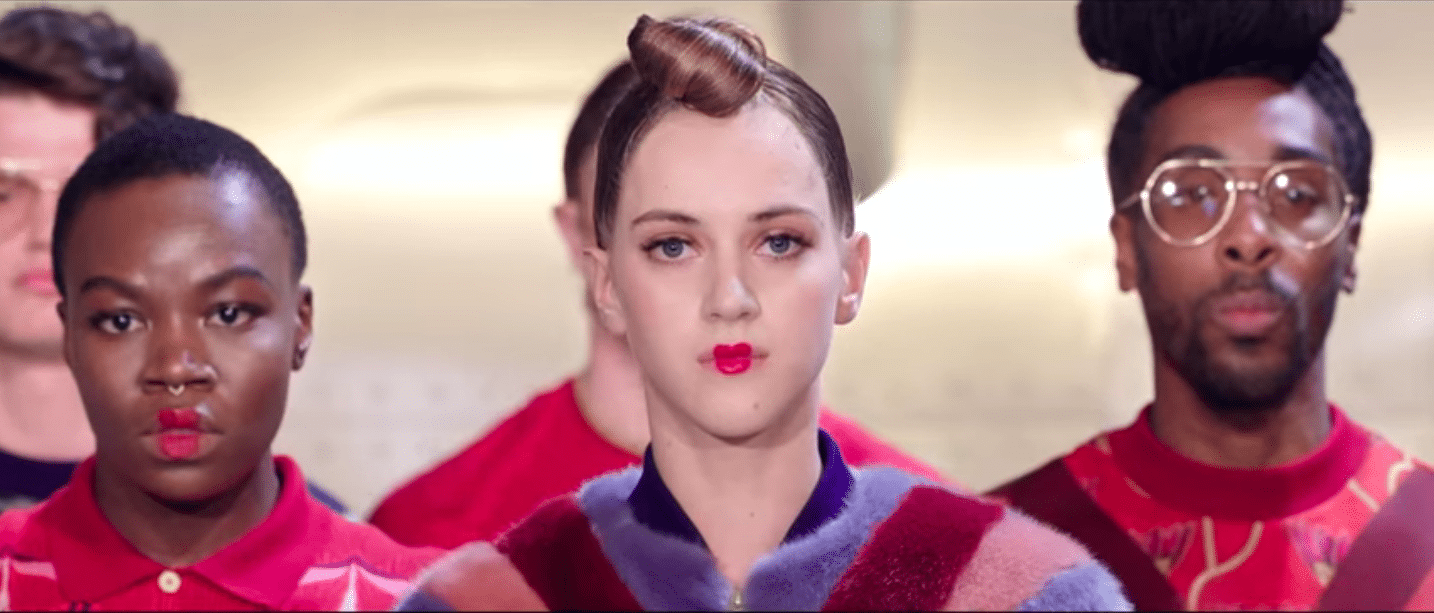 Oh, right, one of Stromae/Mosaeart's other recent projects – NBD: The artistic direction of Dua Lipa's "IDGAF" music video, released in January, currently at 371 million views, and counting fast.
Circling back to Stromae's live sesh on KEXP – it ends with legitimately one of the most impressive, moving live musical segments I've ever seen as Stromae and his two bandmates sing "Tous Les Mêmes" (205 million views on the official video) – in straight, flawless a cappella. If you don't watch anything else in this segment, just watch the a cappella of "Tous Les Mêmes," during the last four minutes of the video (scroll up to the first video featured at the top of this article).
I have to agree with what the KEXP  radio host says after Stromae and his bandmates finish the a cappella performance and the show … and I would further put this toward every artistic piece of Stromae's I have consumed thus far: "That was ridiculously, amazingly good."
If I do one day get to speak those words to Stromae post performance, he shall reply exactly as he does to the radio host, in that thick-as-golden-honey French accent: "I love the way you say that."
Oh Stromae … I love the way you say it all.